Beginning of Double Dip in Housing Market?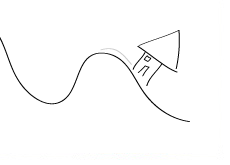 CoreLogic, which bills itself as a "leading provider of information, analytics and business services", released its July Home Price Index (HPI) earlier today.
The main takeaway from the report was that home prices declined in 36 states YoY in July, which was "twice the number in May and the highest since last November".
As CNBC pointed out earlier today, home prices are being hit for three reasons:
1. Expiration of home buyer tax credits.
2. Increased foreclosure numbers (CNBC stated that many banks and states were delaying the foreclosure process, which created an artificial drop in the number of foreclosures around the country).
3. Drop in new home buyer confidence.
Source:
CNBC.com
New home buyer confidence is dropping due to a number of different reasons. To start, the increase in foreclosed properties hitting the market has caused many potential buyers to become more cautious. In addition, the continued high national unemployment rate and lack of economic recovery in the United States has also depressed the confidence of potential new home buyers.
This has resulted in many sellers needing to slash their asking prices in order to find buyers, which resulted in lower home prices in 36 states in July.
According to this Bloomberg.com article
, Morgan Stanley believes that there are around 8 million bank-owned and foreclosure-bound homes that have still yet to hit the market.
It's safe to say that the US housing market will never start to truly recover until all of these foreclosed properties have worked their way through the system and found buyers. Until that happens, it's a pretty safe bet that prices will continue to fall in the country.
Filed under:
The Economic Meltdown