Review of Cody Willard's Revolution Investing Newsletter
Click Here For a FREE 30 Day Trial of Revolution Investing
The Revolution Investing newsletter is run by Cody Willard.
If you read financial web sites and watch channels such as CNBC and the Fox Business Network, then there is a good chance that the name Cody Willard rings a bell for you.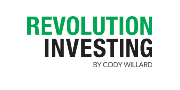 Willard, 38, has made a name for himself through his business acumen and frequent appearances in the media. Willard was formerly an anchor on the Fox Business Network, and also made frequent appearances on Kudlow and Company a few years ago. Cody also penned a number of columns for the Financial Times and Thestreet.com.
These days, Willard spends the vast majority of his time running CL Willard Capital, which is an investment management company. Cody also writes the Revolution Newsletter and maintains a web site that is dedicated to finding the most useful mobile applications. As of that wasn't enough, Willard also teaches a class called "Revolutionomics" at Seton Hall University. Definitely a full plate.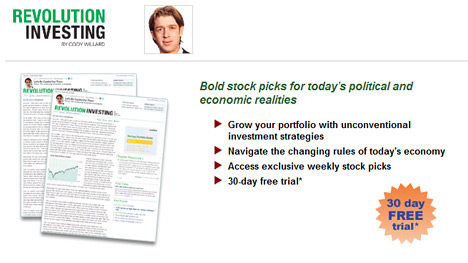 So, now that you know a little bit about Willard, let's delve into his new newsletter offering.
Revolution Investing is a weekly newsletter that leverages Willard's "access to leaders from Washington to Wall Street".
The general gist of the newsletter is this - the world is changing quickly, and Willard is out there on the frontlines, giving you his immediate feedback as to how these changes may have an impact on the stocks that are currently in your portfolio. As the global economy shifts and changes with each passing day, Willard offers his opinions as to how these changes might best be exploited by a savvy investor. He does this by offering up picks that take advantages of economic and political changes in the world.
If you are a person that closely follows the news, then you will likely be fascinated by the content in Willard's newsletter. If you were ever wondering how your knowledge of world events might translate into dollars in your pocket, then signing up for Willard's newsletter is a no-brainer, as you will certainly enjoy it.
If you are unsure as to whether or not you want to sign up for "Revolution Investing", then I would recommend signing up for the FREE 30 day trial. As long as you cancel your subscription before the end of the 30 day trial period, you will NOT be billed anything. This is a win/win situation - you can get a taste of the type of content that Willard provides without actually having to make a financial commitment.
At the very least, I'd recommend giving the 30 day free trial a try. If you decide to stick around after that, a subscription for the full year is just $99.
Click Here To Sign Up For Your Free Trial!
Filed under:
Company Reviews