TD Ameritrade (www.tdameritrade.com): A Great Choice for a New Investor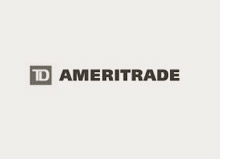 In the past we've only profiled daytrading firms such as Cybertrader and forex firms such as FXCM. But what about the little guy? What about the guy who may only execute 1-2 trades per month, but wants to be able to control his own account and not have to phone in to an expensive broker to execute a trade? If this sounds like you, then I would recommend opening up an account at TD Ameritrade.
TD Ameritrade was one of the first online brokers. They have been around for years and years; through the boom times of the late 90's, and through the bust times of the early 2000's. TD Ameritrade is rock solid, and has gotten progressively better over the years. I remember when they first appeared, they would have major problems with connectivity in times of heavy market volume. You don't really hear that anyone, as they have shored up their technology and can now deal with a market in turmoil.
The fact that TD Waterhouse bought Ameritrade just gives them extra credibility; your money will be safe with Ameritrade. Their trading costs are reasonable. They charge a flat $9.99 fee for online trades, regardless of the order type, and regardless of the size. Sure, the "per share" pricing model is cheaper, but if you are only executing a few trades per month, then $9.99 is just fine. If you wish to execute your order over the phone or through a broker, the costs increase, but I am not sure why you would want to do this anyways if you are opening up an online account.
For options trades, the company charges $9.99 + $0.75 per contract. Again, you could get cheaper than this, but if you are trading infrequently, you can't really go wrong with this price.
TD Ameritrade has also increased the number of bells and whistles that they offer to their clients. They offer the 5 second guarantee, which states that for a certain basket of stocks, if your order takes more than 5 seconds to execute, then your commission is free. The company also offers a number of tools including Quotescope and the Command Center 2.0.
If you are looking for a safe, reliable and cheap discount online brokerage, then TD Ameritrade is the choice for you. You can't really go wrong with them.
Filed under:
Company Reviews