McDonald's Set To Hire 50,000 Workers on April 19th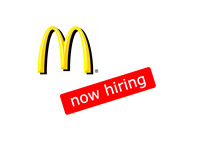 The good news? 50,000 people in the United States will find themselves with a new job on April 19th.
The bad news? The company that will be doing the hiring is McDonald's, and these 50,000 new positions will be "McJobs".
Now, there is absolutely nothing wrong with working at McDonald's, but these jobs are not the types of job openings that the millions of unemployed Americans out there need to be seeing right now.
Earlier this week, McDonald's announced that they would be embarking on a massive one-day hiring spree in the United States. The company is looking to fill 50,000 job openings at their 14,000 locations across the country, and they plan on finding everybody that they need on April 19th.
McDonald's points out that they will be looking to fill both "crew" and management positions.
After this hiring spree has been completed, McDonald's will have a total US workforce of 700,000 people.
700,000 people! Think about that number for a second and let it sink in.
--
Business is good at McDonald's these days.
Thanks to the economic turmoil in the United States over the past couple of years, many Americans have found themselves buying more and more of McDonald's low-priced fare.
In addition, an increasing number of McDonald's locations are making the decision to stay open 24 hours a day.
The result? McDonald's is trading right near its all-time high of $80.94, and is in the market for 50,000 new employees.
--
CNN notes that the average pay for the 50,000 new positions will be $8.30 per hour, which is higher than the federal minimum wage. I believe that this $8.30 per hour number also includes the planned management hires.
Source: CNN.com -
McDonald's to hire 50,000 Workers - in 1 Day
Filed under:
The Economic Meltdown