Mitt Romney Emerges as Frontrunner for Republican Nomination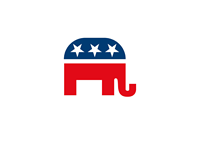 Over the past couple of days, two very notable names have announced that they will NOT be running for president in 2012 - Mike Huckabee and Donald Trump.
Mike Huckabee was seen by many as being the Republican's best chance of winning in 2012. RasmussenReports.com recently looked at a number of hypothetical 2012 match-ups, and Huckabee was the only Republican that even came close to Obama (Rasmussen projected that Obama and Huckabee would both earn 43% of the vote if they squared off against each other). The next closest match-up? Obama vs Romney (Rasmussen had Obama winning 45% to 40%).
Having said that, many people expected that Huckabee would not run in 2012, so his recent announcement really didn't surprise anybody.
Donald Trump has certainly made some waves over the past couple of months, and some polls had him as the front-runner for the Republican nomination in 2012. Trump has been very outspoken about a number of different topics, including China, Obama's birth certificate and American's dependence on oil.
Trump recently announced that he will NOT be running for President in 2012. Trump cited his hesitance to leave the private sector as his main reason for not seeking the Republican nomination.
--
So, no Trump and no Huckabee. Who does that leave us with?
As of this second, Mitt Romney is the clear frontrunner for the Republican nomination.
Sarah Palin hasn't announced her intentions as of yet, but many feel as though she will take a pass on 2012.
--
Republican voters seem to be quite lukewarm
towards the potential field of GOP candidates for 2012.
Having said that, you never know who is going to end up capturing the hearts and minds of Republican voters between now and the 2012 Republican National Convention.
Source:
RasmussenReports.com
Filed under:
General Knowledge