How Are Things Looking Two Years Later?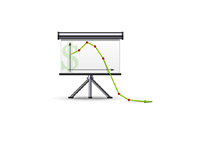 A number of media outlets have been reminding us that the "Great Recession" (which got underway in December of 2007) officially "ended" two years ago (June 2009).
There was a great deal of hope when the recession ended in 2009. The US economy managed to grow in Q3/2009 (+1.6% annualized), reversing a trend that had been in place since the start of the "Great Recession". Things started to accelerate in future quarters - Q4/2009 saw the economy grow at a 5% pace (annualized), while Q1/2010 clocked in at 3.7%. It seemed, for a time, that the economy was on the mend.
Since the first quarter of 2010, the wheels have come off and the US economy is seemingly running in place.
In June of 2009, the
national unemployment rate
was 9.5%. In May of 2011, the national unemployment rate was 9.1%. After briefly dipping below the 9% barrier in February and March, the unemployment rate ticked back up to 9% in April and 9.1% in May. Not exactly the type of job recovery that many people were hoping for when the "Great Recession" finally ended two years ago.
The real estate market? Ugly. So ugly, in fact, that the double dip in the US housing market was just made official. Foreclosures are weighing on the housing market like a lead balloon, and it's hard to see any kind of a floor being set until banks have been able to move all of this inventory off of their books. Combine the glut of foreclosures with a high unemployment rate and tighter access to credit, and you have a buyer's market. Even "stronger" regions within the United States have fallen victim to this double dip.
How about the stock market?
Since June 30th, 2009, the DJIA, NASDAQ and S&P 500 have all recovered nicely:
June 30th, 2009:
DJIA - 8,447
NASDAQ - 1,835.04
S&P 500 - 919.32
July 1st, 2011:
DJIA - 12,582.77
NASDAQ - 2,816.03
S&P 500 - 1,339.67
Corporate earnings have rebounded, which has led to a surge in all three market averages.
Inflation has taken its toll on the purses and wallets of the average American. Gas, for instance, is currently around $3.60/gallon, which is roughly $1/gallon higher than it was two years ago. This, along with several other factors, has translated into higher food prices.
The country has continued to post monstrous
deficits
- 1.294 trillion in 2010, and an expected $1.65 trillion in 2011. This has resulted in the national debt load ballooning to well over $14 trillion, which has resulted in a standoff over the country's
debt ceiling
.
The average American is still trying to operate in a very challenging economy. Not only is it still hard to find a job (
McDonald's received over 1 million applications
on their "National Hiring Day" earlier this year), but the cost of living has substantially increased as well.
Given all of that, it's not surprising that
US economic confidence is currently near its 2011 low
. The last two years have been rough, and there are really no bright spots on the horizon. The lack of a meaningful economic recovery in the country is going to be THE issue in the upcoming Presidential election.
Filed under:
The Economic Meltdown