Starting Your Own Website in Five Easy Steps
In this article, I'll answer questions such as: how do I start my own website? How do I register a domain? Where should I host my site?
At first glance, starting your own website can seem a bit daunting. In reality, the entire process is quite simple - by following just a few steps, you can have your own website online and running in just a few short hours (at most).
Before I begin, let me just say that I have worked with each and every site that I mention below. I only recommend companies that I have personally used myself.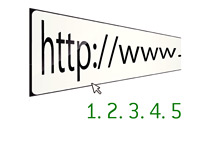 Let's get started.
1. Registering your domain name. This is going to be your online identity - choose wisely. If you are having trouble coming up with a name, you might want to consider going with your actual name (as I did with Davemanuel.com).
First step -
head over to Godaddy.com
, which is one of the largest domain name registrars in the world. Type your domain name choice in the box in the middle-left of the page to see if it is available.
If it is available, grab it. Setting up an account through Godaddy.com is very simple - just follow the instructions and the domain will be yours within just a few minutes. Don't delay, or else your perfect domain name might get snatched up by somebody else.
The cost of a Godaddy.com domain? Less than $10 a year.
2. Buying your web hosting package. You have your site name - now you need the space to host your site online.
Head on over to Hostgator.com
and look through their various packages. For somebody just starting out, you are going to be ok with the Hatchling or Baby Plan - you can always upgrade to a more powerful package when your site gets really popular.
Sign up for a web hosting plan and check your email. Hostgator will give you all of the instructions necessary to get started.
The cost of a Hostgator.com web hosting package? Roughly $3-$10 per month.
Hostgator.com is a reputable web host that is used by thousands of people and companies.
3. Pointing your domain name at your Hostgator site. Ok, you have your domain name and you have your web hosting space.
Now you need to tell Godaddy.com where to find your Hostgator site, so when somebody types in YourSite.com, they hit your site.
Check the Support Docs that Hostgator provides to their customers and you will find instructions on how to change your settings at Godaddy.com. Godaddy.com also has instructions as well.
This is a very simple process that can be completed within a minute or so. If you are unsure as to what the process is called - search "Change Nameservers" in your Support Docs or on Google.com.
4. Setting up your Blog. Wordpress (
Wordpress.org
) is the blogging software that is used by millions upon millions of blogs across the world.
Wordpress is also used by Davemanuel.com.
Head over to Wordpress.org and download the Wordpress software. Simply follow the instructions to install Wordpress on your site - it should take no more than ten minutes, tops. Wordpress has the installation process down cold now, so you should be able to upload and install the software without any hitches. If you do encounter a problem, Wordpress.org has a vast and bustling user forum where you can search for help (any problem that you have, somebody is guaranteed to have encountered it before).
5.
Purchase the Thesis Theme
. A "theme" sits on top of your Wordpress installation and allows you to easily edit the look and overall style of your site.
I highly recommend the
Thesis theme
because it makes it extremely easy to work on your site and make alterations. In addition, the Thesis theme has been programmed to specifically do well in search engines such as Google. As a matter of fact, a number of Google engineers use the Thesis theme on their own sites.
You can easily mess around with the look and feel of your site after you have installed the Thesis theme.
--
That's it! All in all, this process should take you no more than an hour or two. When you are done, you will have your own site and your own little piece of online real estate.
Now, get to writing and start building your following!
Note: I highly recommend getting your own domain name and building your site using that domain name. The reason? You don't want to have to switch your site down the road, and the longer a domain name has been registered, the more powerful the site will be in Google (domain age).
Filed under:
General Knowledge