The New Retirement?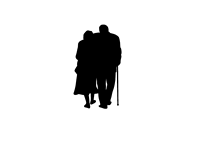 Earlier this weekend, an article surfaced on WSJ.com titled "For Many Seniors, There May Be No Retirement".
The article points out that "more than three in five US workers in their 50s and 60s plan on working past 65", according to a recently released study from the Transamerica Center for Retirement Studies.
The article also points out that many Americans who are at or near retirement age have had their retirement plans either postponed or scrapped completely thanks to the events of the past 3 1/2 years. The destruction of the housing market, the wild swings of the stock market and the tight job market have all conspired to ruin many planned retirements across the nation.
The report from Transamerica Center for Retirement Studies, which is titled "The New Retirement: Working", is particularly eye-opening.
According to the report, a staggering 39% of those surveyed for the report said that they plan to work past age 70 or do not plan to retire at all. In addition, 54% of those surveyed expect to continue working when they retire, and 40% of those surveyed said that the "Great Recession" will result in them working longer and retiring at an older age.
The 4,080 people who were included in the survey estimate that they will need roughly $600,000 (median) in order to be able to retire. However, just 30% currently have more than $100,000 in all of their household retirement accounts.
Of the 4,080 people that were included in the survey, only 10% have a written plan that details how they plan on achieving a comfortable retirement. The survey also claims that just 10% of those surveyed were "very confident" in their ability to retire comfortably, while 41% were "somewhat confident".
Source: Transamerica Center for Retirement Studies -
The New Retirement: Working (*.pdf)
Source: WSJ.com -
For Many Seniors, They May Be No Retirement
Filed under:
General Knowledge