Mitt Romney Leads Newt Gingrich 27% to 23%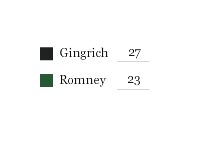 According to a recently released Gallup poll, Mitt Romney has retaken the lead from Newt Gingrich amongst Republican voters for the 2012 GOP Presidential Nomination.
According to Gallup, Mitt Romney currently leads Newt Gingrich 27% to 23%, with Ron Paul (11%) and Rick Perry (8%) trailing far behind.
This has been the story of the GOP Presidential nomination race so far - Mr. Slow and Steady, Mitt Romney, has consistently beaten back the surges of candidates such as Herman Cain, Rick Perry and now Newt Gingrich. All three of the aforementioned candidates surged past Romney in the polls at some point, but then eventually fell back.
In early December, Gingrich held a 37-22% lead over Romney, but that lead has quickly evaporated.
--
To see why Romney is currently leading Gingrich, you need look no further than their support in the 18-34 and 35-54 age ranges.
Letís take a look:
18-34
Mitt Romney - 20%
Newt Gingrich - 9%
35-54
Mitt Romney - 28%
Newt Gingrich - 24%
In case you were wondering, the two candidates are currently tied at 29% in the 55 and up age bracket.
--
Finally, letís take a look at the Intrade.com prediction market to see where the Republican candidates are currently trading at:
Mitt Romney - 77.5%
Newt Gingrich - 4.9%
Ron Paul - 4.0%
This means that the Intrade.com prediction traders are currently giving Mitt Romney a 77.5% chance of winning the Republican nomination.
Newt Gingrich traded as high as the high 30s before falling off in recent weeks.
Note:
Intrade.com
currently gives Barack Obama a 51.4% chance of being re-elected in 2012.
--
Source: Gallup.com -
Romney Edges Gingrich, 27% to 23%, for National GOP Lead
Filed under:
General Knowledge