Romney Currently Has a Stranglehold on Race for Republican Nomination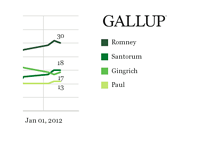 The race for the 2012 Republican presidential nomination is Mitt Romney's to lose.
According to a recent Gallup poll, 60% of Republican and Republican-leaning independents believe that Mitt Romney is the candidate most likely to win the 2012 Republican presidential nomination.
Here are the current numbers, courtesy of Gallup:
Mitt Romney - 60%
Rick Santorum - 11%
Newt Gingrich - 8%
Ron Paul - 4%
Rick Perry - 3%
This is a dramatic shift from early December, when the numbers looked like this:
Mitt Romney - 39%
Newt Gingrich - 35%
Rick Perry - 5%
While anything could still happen over the next few months, there is no reason to think that Mitt Romney will be committing the types of gaffes that could cost him this very big lead.
Mitt Romney is looking to solidify his lead ahead of the New Hampshire Primary Elections, which are slated to take place tomorrow (Tuesday, January 10th). Historically speaking, the leader in the polls following the New Hampshire Primary has generally gone on to secure the Republican nomination.
--
According to online prediction market Intrade.com, Mitt Romney is a near-lock to secure the nomination.
At the time of this article, the "Mitt Romney to be Republican Presidential Nominee in 2012" contract was trading at around $8.06. A contract has a maximum value of $10, meaning that Intrade.com traders believe that Romney currently has a 80%+ chance of securing the nomination.
Other candidates, including Rick Santorum (2.2%) and Newt Gingrich (4.9%), are currently lagging far behind.
--
According to Gallup, Romney currently has the support of roughly 30% of all Republican and Republican-leaning registered voters (30% of Republicans want Romney to win the nomination, whereas 60% of Republican voters believe that Romney will win the nomination).
The full numbers (GOP 2012 Presidential Nominee Preference):
Mitt Romney - 30%
Rick Santorum - 18%
Newt Gingrich - 17%
Ron Paul - 13%
Source: Gallup.com -
Romney Now Dominates GOP Expectations for Who Will Win
Filed under:
General Knowledge