DJIA Closes at 12,862.23 on Friday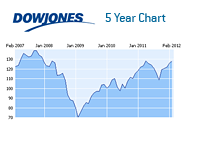 The DJIA (Dow Jones Industrial Average) closed at 12,862.23 on Friday, which was its highest close since May 19th, 2008. The markets were buoyed by another drop in the US national unemployment rate - after hitting a "Great Recession" high of 10.2% in October of 2009, the national jobless rate has now dropped to 8.3%.
The three major US market indices (DJIA, NASDAQ and S&P 500) have all staged incredible comebacks from their "Great Recession" lows. The DJIA traded down to 6,600 points in the months following the near collapse of the global economy, and has since nearly doubled off of its lows. The NASDAQ has traded from less than 1,300 (March of 2009) to its current level of 2,905.66, while the S&P 500 has roughly doubled off if its "Great Recession" lows as well.
The markets have been steadily marching higher despite continued troubles in Europe and stagnant growth in the United States economy. The good news for people who have money invested in the markets?
Corporations are making more money
(link is a *.pdf file) than ever.
--
Many Americans had their portfolios absolutely obliterated in 2008 and 2009, but the good news is that the markets have rebounded significantly from the March 2009 lows. Now, if you had to sell all of your positions at the lows to pay your bills because you lost your job, then you obviously aren't as lucky..
--
Let's take a look at where some prominent stocks were trading at during the March 2009 lows..
AAPL
Then - $83.11 (March 9th, 2009)
Now - $459.68
GOOG
Then - $290.89 (March 9th, 2009)
Now - $596.33
BRK.a
Then - $73,195 (March 9th, 2009)
Now - $119,800
MCD
Then - $52.32 (March 9th, 2009)
Now - $100.01
GE
Then - $6.88 (March 9th, 2009)
Now - $19.02
Filed under:
The Economic Meltdown