How Much Will a Gallon on Gasoline Cost This Summer?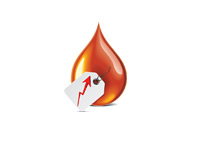 Spring and summer are approaching, which means that it is time to ask the question that comes up every year - "How high will gas prices rise this year?"
Gasoline prices are already worryingly high across the nation, and it's still February.
According to Gasbuddy.com (link below), the average price for a gallon of regular gasoline is currently about $3.53. This is well ahead of last year's pace, when a gallon of gasoline cost about $3.20/gallon in mid-February (note: gas prices hit a high of around $3.90/gallon *nationwide average* last year).
The price of a gallon of gas appears to be on a collision course with $4/gallon this year, with some experts believing that $5/gallon is entirely possible as well. The strained (to put it mildly) relationship between Iran and US/EU is seen as being a catalyst for potentially soaring oil and gasoline prices this spring and summer.
As a matter of fact, three states (California, Alaska, Hawaii) already have statewide averages of $4+ per gallon. Connecticut ($3.86/gallon) and New York ($3.861) are close behind.
According to this CNN article
, some experts believe that gasoline could rise to $5 this summer. This will largely depend on how the situation in Iran plays out, but a rebound in economic activity in the United States and a sustained rise in US equity markets should also help to increase the price of gasoline in the country.
The last time that gasoline hit $4/gallon throughout the nation? 2008. It's a pretty good bet that we'll get there again in 2012.
Source:
GasBuddy.com
Filed under:
General Knowledge