3.8 Million Job Openings in June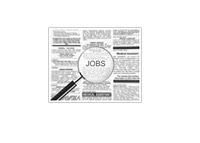 According to the BLS (Bureau of Labor Statistics), there were 3.8 million job openings in the United States as of the last business day of June.
To be precise, the BLS said that there were 3,762,000 job openings as of June 2012, up from 3,657,000 in May of 2012. In June 2011, there were a total of 3,241,000 job openings.
According to the Bureau of Labor Statistics, there were a total of 4,361,000 new hires made in June, as well as a total of 4,278,000 separations (a separation occurs when an employee leaves a job, either involuntarily or voluntarily).
Of the 3,762,000 job openings that were recorded at the end of June, 3,399,000 were in the private sector and the 363,000 were government positions.
The industries with the highest number of job openings in June were:
Professional and Business Services, 860,000
Trade, Transportation and Utilities, 834,000
Leisure and Hospitality, 713,000
Education and Health Services, 494,000
Job openings by region (not seasonally adjusted):
South - 1,394,000
West - 816,000
Midwest - 804,000
Northeast - 709,000
The national unemployment rate
currently sits at 8.3%
.
Source: BLS.gov -
Job Openings and Labor Turnover Summary
Filed under:
General Knowledge