What Was Paulson + Co Up To In The Second Quarter?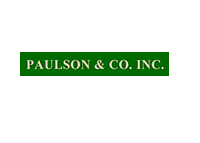 Four times per year, institutional investment managers who manage over $100 million must file a 13F-HR with the SEC.
These filings give investors a partial glimpse into the portfolios of some of the largest hedge funds and money managers in the world, including the likes of Berkshire Hathaway, Soros Fund Management and Paulson and Co. Inc.
Now, the bloom may have come off of the John Paulson rose last year, but the man still manages a very large amount of money. For that reason, we are going to be taking a look at what he was buying and selling last quarter.
Paulson + Co. Inc. listed a total of 71 Section 13(f) securities at the end of the second quarter. These 71 securities were valued at nearly $12 billion as of the last day of trading of the second quarter.
Here are the new positions that John Paulson opened during the second quarter:
CABLEVISION SYS CORP, 2100000 Shares, $27,909,000, CL A NY CABLVS
CNO FINL GROUP INC, 35810000 Shares, $55,908,000, DBCV 7% 12/16
COOPER INDUSTRIES PLC, 1000000 Shares, $68,180,000, SHS
EQUINIX INC, 1013600 Shares, $178,039,000, COM NEW
HILLSHIRE BRANDS CO, 2963808 Shares, $85,921,000, COM
JPMORGAN CHASE & CO, 4000000 Shares, $142,920,000, COM
KINDER MORGAN INC DEL, 2559995 Shares, $5,530,000, W EXP 05/25/17
NOVACOPPER INC, 5995077 Shares, $12,021,000, COM
RESOLUTE FST PRODS INC, 3300000 Shares, $38,214,000, COM
Here are the positions that John Paulson exited during the second quarter (this could have been due to a standard sale of shares, a merger or any other circumstance):
ABITIBIBOWATER INC, 3300000 Shares, $47,124,000, COM NEW
ANADARKO PETE CORP, 5982345 Shares, $468,657,000, COM
BEAZER HOMES USA INC, 2301483 Shares, $7,480,000, COM
CHEMTURA CORP, 292325 Shares, $4,964,000, COM NEW
CNO FINL GROUP INC, 35810000 Shares, $55,953,000, DBCV 7% 12/16 1
EL PASO CORP, 8000000 Shares, $236,400,000, COM
FAMILY DLR STORES INC, 1500000 Shares, $94,920,000, COM
JPMORGAN CHASE & CO, 18463500 Shares, $247,042,000, W EXP 10/28/18
MEDCO HEALTH SOLUTIONS, 4000000 Shares, $281,200,000, COM
MEDICIS PHARMACEUTICAL, 681400 Shares, $25,614,000, CL A NEW
METLIFE INC, 1829782 Shares, $129,402,000, UNIT 99/99/99
MOTOROLAL MOBILITY HLDGS, 11000000 Shares, $431,640,000, COM NEW
NEWS CORP, 300000 Shares, $5,994,000, CL B
NOVELLUS SYS INC, 2000000 Shares, $99,820,000, COM
QUAD / GRAPHICS INC, 150000 Shares, $2,085,000, COM CL A
SARA LEE CORP, 70000 Shares, $1,507,000, COM
SUNTRUST BKS INC, 5651894 Shares, $136,606,000, COM
TEVA PHARMACEUTICAL INDS, 141193 Shares, $6,362,000, ADR
TENET HEALTHCARE CORP, 2700000 Shares, $14,337,000, COM
THOMAS & BETTS CORP, 1000000 Shares, $71,910,000, COM
UNITED RENTALS INC, 834900 Shares, $35,809,000, COM
WALTER ENERGY INC, 500000 Shares, $29,605,000, COM
--
Finally, here are the existing positions that Paulson added to or pared down during the second quarter:
ALLIED NEVADA GOLD CORP (COM), +49.65% in Holdings
AMERICAN CAP LTD (COM), -52.83% in Holdings
ANGLOGOLD ASHANTI LTD (SPONSORED ADR), -1.21% in Holdings
ANGLOGOLD ASHANTI HLDG (MAND BD CV 13), +0.4% in Holdings
BANK OF AMERICA CORP (W Exp 01/16/19), -2.94% in Holdings
BAXTER INTL INC (COM), -50% in Holdings
CAPITAL ONE FINL CORP (COM), -48.78% in Holdings
CNO FINL GROUP INC (COM), -2.2% in Holdings
DELPHI AUTOMOTIVE PLC (SHS), -29.14% in Holdings
FAIRPOINT COMMUNICATIONS (COM NEW), -9.19% in Holdings
FELCOR LODGING TR INC (COM), -12.28% in Holdings
GAYLORD ENTMT CO NEW (COM), +47.06% in Holdings
GOLD FIELDS LTD NEW (SPONSORED ADR), -4.34% in Holdings
HARTFORD FINL SVCS GRP (COM), -16.35% in Holdings
HARTFORD FINL SVCS GRP (W EXP 6/26/19), +107.14% in Holdings
HCA HOLDINGS INC (COM), +396.88% in Holdings
HOWARD HUGHES CORP (COM), -51.45% in Holdings
NOVAGOLD RES INC (COM NEW), +12.63% in Holdings
POPULAR INC (COM), -91.9% in Holdings
PRESTIGE BRANDS HLDGS (COM), -15% in Holdings
QUEST SOFTWARE INC (COM), +146.43% in Holdings
ROCK-TENN CO (CL A), -3.42% in Holdings
SCRIPPS NETWORKS INTER (CL A COM), -30% in Holdings
SPDR GOLD TRUST (GOLD SHS), +26.15% in Holdings
XL GROUP PLC (SHS), -54.33% in Holdings
Filed under:
General Knowledge