Over $7.3 Million Has Been Donated To Reduce US Debt This Year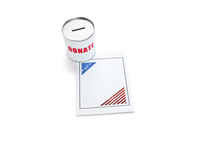 Did you know that you can donate your money to help the United States reduce its public debt load?
That's right - the Bureau of the Public Debt will gladly accept your donations and will use this money to help reduce the country's debt load.
In fact, you don't even have to donate money. The Bureau of the Public Debt will also accept outstanding government obligations (saving bonds, etc) and "other intangible personal property". This intangible personal property will be sold, with the proceeds going towards the US public debt.
Seeing as this is the 21st century, the US Treasury has even set up an online page where you can donate using your checking account or credit card! The US government has made it very simple for you to donate if you have an urge to make a dent (albeit a very, very, very small one) in the country's massive $16 trillion debt load.
--
Gift contributions to reduce the nation's staggering debt load have spiked during the 2012 fiscal year.
According to Treasury.gov, $7.3 million has been donated so far this fiscal year. That is much more than last year ($3,277,369.23 for the entire year), and significantly more than 10 years ago (in 2002, just $744,675.06 was donated).
Let's take a look at the progression of debt donations from 1996 until present day:
2012 $7,307,110.33
2011 $3,277,369.23
2010 $2,840,466.75
2009 $3,063,057.05
2008 $2,189,358.89
2007 $2,624,862.42
2006 $1,646,209.41
2005 $1,455,541.65
2004 $664,911.25
2003 $1,277,423.40
2002 $744,675.06
2001 $1,645,082.28
2000 $1,868,891.93
1999 $1,457,510.59
1998 $1,535,541.02
1997 $955,897.15
1996 $1,985,175.10
--
The United States is in the midst of a four year trillion dollar plus deficit streak. This means that well over $1 trillion gets added to the national debt load every year.
The US adds roughly $3 billion to its debt load every day. That works out to about $125 million in added debt every hour, and about $2.08 million every minute.
So, that $7.3 million in gifts to help pay down some of the US debt? That would pay for about 3 1/2 minutes worth of debt.
Source: TreasuryDirect.gov -
Gift Contributions to Reduce Debt Held By the Public
Filed under:
General Knowledge