QE3 Being Implemented To Help Strengthen Labor Market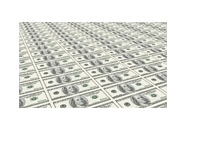 Gold soared and the markets rumbled higher on Thursday after the Federal Reserve announced yet another round of quantitative easing (aka, "QE3").
The Fed unveiling QE3 wasn't a surprise at all - the markets have been expecting it for months now, and the anticipation for QE3 really ramped into high gear after August's weak jobs report.
However, many people were surprised at just how aggressive QE3 is going to be - many media outlets, economists and market observers declared that the Fed had gone "all in", to borrow a poker analogy.
In a press release that went out on Thursday morning, the Federal Reserve announced that they will be "purchasing additional agency mortgage-backed securities at a pace of $40 billion per month". In addition, the Fed will continue to "extend the average maturity of its holdings of securities as announced in June", and will also be "maintaining its existing policy of reinvesting principal payments from its holdings of agency debt and agency mortgage-backed securities in agency mortgage-backed securities."
According to the Fed, these actions will "increase the Committee's holdings of longer-term securities by about $85 billion each month through the end of the year".
How will the Fed afford these purchases? By printing money.
The goal of these actions? To "put downward pressure on longer-term interest rates, support mortgage markets, and help to make broader financial conditions more accommodative".
This is an open-ended action - according to the press release, the Fed intends on continuing these actions "if the outlook for the labor market does not improve substantially".
The Federal Reserve also announced that they have decided to "keep the target range for the federal funds rate at 0 to 1/4 percent", and that they anticipate that this very low rate will be warranted through "mid-2015".
--
Quantitative easing is inflationary, which means that your dollars won't go as far as they used to. If money is being printed, existing dollars are worth less. There is a reason why gold made a $30+ move today - gold is a hedge for inflation.
"Gold bugs" are happy about the move, and economists seem to be mixed. What do you think about QE3?
Source: FederalReserve.gov -
Press Release
Filed under:
General Knowledge