Mitt Romney Seen as "Aggressive" and "Polished"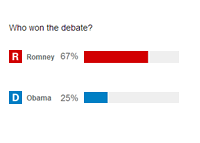 Mitt Romney and President Barack Obama squared off in the first of three Presidential debates last night at the University of Denver. The debate, which was moderated by Jim Lehrer, focused on domestic policy.
It's safe to say that Mitt Romney exceeded expectations last night. The general consensus is that Romney was "well-prepared", "aggressive" and "polished", while President Obama was "listless", "defensive" and "timid".
According to a CNN/ORC International poll that was conducted immediately after the debate, 67% of those surveyed said they Mitt Romney won in Denver last night, while just 25% said they believed that President Obama won. Considering how polarized the nation is, that's a pretty overwhelming victory for the Romney campaign. Just how big of a victory was it for Mitt Romney? According to CNN Polling Director Keating Holland, no Presidential candidate has ever topped 60% since the network first started asking the question back in 1984.
Many Americans had decided who they were going to vote for before the debate started, but what about those Undecideds?
According to CNN, 35% of those surveyed said that the debate made them more likely to vote for Mitt Romney, while just 18% said that they were more likely to vote for President Obama.
--
It's safe to say that Mitt Romney outperformed expectations last night.
According to the CNN poll, 82% of those surveyed said that Mitt Romney performed better than expected, while more than 60% said that President Obama did worse than expected.
--
It will be interesting to see how the first debate impacts national polling numbers. Romney and Obama were in a virtual deadlock in nearly every major poll heading into the first debate.
The impact of the debate on Intrade.com was immediate.
In the week leading up to the first debate, Intrade.com (an online prediction site where people bet real money on the outcome of certain events) was giving President Obama a nearly 80% chance of winning the election in November. Following the first debate, this number dropped all the way back down to 66%.
Mitt Romney, on the other hand, surged from the low 20s up to 33%.
Source: CNN.com -
CNN Poll: Most watchers say Romney debate winner
Filed under:
General Knowledge