Some Major Chains Will Open on Thursday Evening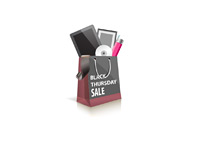 Food, football, family - and shopping.
Thanksgiving used to be about gathering with your family, eating to the point of nearly passing out and then posting up on your favorite couch to watch some football.
Over the past decade or so, something else has been added to the mix - shopping.
Now, "Black Friday" has always been a massive day for retailers. People would fill their bellies on Thanksgiving Day and then head to the mall to empty their wallets on "Black Friday". "Black Friday" is the day that officially kicks off the Christmas shopping season. Many retailers lose money for the year up until "Black Friday", as they bank a substantial amount of their yearly sales between the day after Thanksgiving and Christmas Eve. The term "Black Friday" was derived from the fact that many retailers turned "black" (profitable) for the year the day after Thanksgiving.
The problem? "Black Friday" is starting to become "Black Thursday". Many major retailers are now choosing to open their doors late on Thanksgiving evening (8 pm in many cases) in order to get a headstart on the lucrative holiday shopping season. Many of these retailers will remain open all night and will close very late on "Black Friday".
The phenomenon of opening on Thanksgiving Day can be traced back to the introduction of the Internet and the explosion in online commerce. While waiting for their turkeys to cook, many people hit up their Amazon.com accounts (and other online retailers) on Thanksgiving Day to buy some Christmas gifts. As a matter of fact, Thanksgiving Day is one of the busiest days for online retailers of the year.
"Brick and mortar" retailers put two and two together and thought - why not open up late on Thanksgiving Day to take advantage of this trend? Toys R Us started the trend last year by opening up at 9 pm on Thanksgiving Day, while other retailers, including the likes of Walmart, Sears and Target, have followed suit.
This has led to an outcry from workers who feel that the retailers have "gone too far". Many workers will be needed to staff these stores on Thanksgiving Day, and most of these workers will be forced away from their families.
A number of petitions have sprung up online
(including one with over 340,000 signatures), asking retailers to remain closed on Thanksgiving Day.
Many people are also upset that Thanksgiving is being "ruined" by retailers and that the holiday is becoming overly commercialized, much like Christmas.
--
What do you think? Has "Black Thursday" taken things too far?
Filed under:
General Knowledge