Negotiations Continue After "Major Setback" on Sunday Afternoon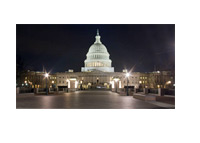 In just over 24 hours, the United States will go off the "fiscal cliff" unless the Democrats and Republicans can come together and agree to a deal.
Hopes of a "grand bargain" have gone out the window in recent weeks. Instead, Democrats and Republicans hope to fashion a smaller, "bare bones" deal that would allow the country to avoid the perilous "fiscal cliff" that has the potential of sending the economy into another recession.
Agreeing on a "grand bargain" proved to be impossible, but the two sides okaying a "bare bones" deal has proven to be just as contentious.
After apparently making some headway earlier this weekend, the two sides reportedly suffered a "major setback" on Sunday afternoon. According to the Democrats, this "setback" was the Republican demand that "significant cuts to Social Security benefits" be enacted in exchange for the extension of emergency unemployment benefits and the cancellation of automatic spending cuts.
According to reports, Senate Majority Leader Harry Reid was "shocked and disappointed" by this demand, calling it a "poison pill".
The Republicans, on the other hand, are disputing this report. From
Marco Rubio's Twitter feed
:
"Report that #GOP insisting on changes to social security as part of #fiscalcliff false.BTW those changes are supported by @BarackObama."
After negotiations fell apart on Sunday afternoon, Harry Reid appeared on the Senate floor to announce that the two sides were talking once again. The Senate will reconvene on Monday morning, meaning that there will be no votes on Sunday night.
--
The sense of optimism that seemed to be growing earlier this weekend has disappeared.
From
Senator Lindsey Graham's Twitter feed
:
"I'm incredibly disappointed we cannot seem to find common ground. I think we're going over the cliff."
That seems to be the prevailing attitude right now in Washington..
Filed under:
General Knowledge