Move Is a "Show of Solidarity" With Federal Workers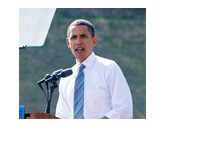 Earlier today, the White House revealed that President Obama will be returning 5% of his annual salary to the Treasury in a show of solidarity with federal workers.
According to a White House official, President Obama "decided to share in the sacrifice being made" by the hundreds of thousands of federal workers who are seeing pay cuts or furloughs due to sequestration.
The Commander-in-Chief makes an annual salary of $400,000 per year, which means that President Obama will be taking a pay cut of $20,000. The salary cut will not be pro-rated - instead, Obama has decided to return 5% of his salary for the entire year.
By law, the salary of the US President can not be altered, which is why President Obama is simply choosing to send 5% of his salary to the Treasury instead.
Don't feel too bad for the President - I'm sure that he will be just fine, even after taking this cut.
After all,
his net worth
was estimated to be between $1,566,014 and $7,764,999 as of the end of 2011.
In addition, President Obama and his family reportedly brought in nearly $800,000 in adjusted gross income in 2011. This comes on the heels of adjusted gross incomes of $1.7 million (2010) and $5.5 million (2009). In addition to the salary that he has received for being President of the United States, Barack Obama and his family have done quite well with the sales of his various books, which helped to pad their income in previous years.
On top of all of that, President Obama
receives other perks for being the leader of the free world
, including:
-taxable pension of at least $191,300 when he leaves office
-annual $50,000 non-taxable expense account
-annual $100,000 non-taxable travel account
-annual $19,000 for entertainment
-Secret Service protection when he leaves office
-staff salaries, benefits when he leaves office
--
I think it's safe to say that the President's finances will be just fine after taking his 5% pay cut.
Filed under:
General Knowledge