Bloomberg Details The Phenomenal Rise in Al Gore's Net Worth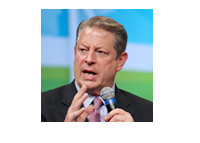 Former US Vice President Al Gore is rich.
Very, very rich.
Just how rich is the former VP and 2000 Democratic Presidential candidate?
According to a recent article in Bloomberg.com (link below), Al Gore is currently worth about $200 million, with much of this net worth having been translated into cold, hard cash over the past couple of months.
As the article in Bloomberg states, this type of wealth makes Al Gore "Romney-Rich".
So how did Al Gore reportedly add over $198 million to his net worth over the past 13 years? How did he take less than $2 million in net worth and transform that into such a mind-bogglingly sum of money in a little over a decade?
Let's start with Current TV.
Al Gore and Joel Hyatt started Current TV in 2002, with the TV channel launching on August 1st, 2005. At the time, Gore said that the purpose of the channel was to serve as an independent voice for younger people who wanted to "learn about the world in a voice they recognize and a view they recognize as their own."
On January 2nd, 2013, Al Jazeera purchased the TV station for a reported $500 million. After all of the debt was paid off, Al Gore reportedly walked away with $70 million in return for his 20% stake in the company.
Now, Al Gore also serves on Apple's Board of Directors, and has done so since 2003. Over the past 10 years, shares of Apple have moved from less than $10 per share all the way to its current level of $460.71.
Thanks to the time that he has spent on Apple's board, Al Gore has built up a very large stake in the company.
On January 15th, 2013, Gore exercised options on 59,000 shares of Apple stock. This gave him a total of 61,574 common shares of Apple, in addition to options on another 42,000 shares that can be exercised in the future. This makes Gore's stake in the company worth well over $45 million.
--
In addition to the home runs that he hit with the Current TV sale and Apple, Inc., Gore is also thought to have done very well through his association with Google. Gore signed on as an adviser with the company in 2001, a number of years before the company went public. According to multiple reports, Gore received stock options worth tens of millions of dollars as compensation for his advisory role.
As is that wasn't enough, Gore receives up to $200,000 per speaking engagement. It wasn't until he left the White House that Al Gore really started to pad his bank account.
--
In short - Al Gore has done very, very well for himself over the past decade and a half.
Source: Bloomberg.com -
Gore is Romney-Rich With $200 Million After Bush Defeat
Photo:
Center for American Progress Action Fund
Filed under:
General Knowledge