Higher Gas, Food Prices Helped Contribute To Increase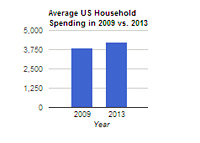 According to a new report, the average US household is spending roughly 10% a month more than in 2009, even after adjusting for inflation.
According to Mint.com, the average US household spent approximately $4,220 per month during the first quarter of 2013, which is up from the $3,870 per month that was spent during the first quarter of 2009. Again, these numbers are adjusted for inflation.
What is driving the increase in spending?
The biggest change has come from the fact that Americans aren't nearly as concerned about their financial well-beings when compared to the first quarter of 2009. Four years ago, the global economy was in full meltdown mode and governments were taking drastic action in order to try and right the ship. Unemployment in the United States spiked dramatically and many households took an axe to their monthly budget, as many of these households had to deal with the loss of at least one job. As a result, many families elected to cook more at home, cut down on their transportation costs, etc.
The economy is still not incredibly strong in 2013, but Americans are far less worried about their finances. A strengthening real estate market and surging equity prices also have many Americans feeling flush. Mint.com notes that charitable giving is up by nearly 50% compared to 2009. It's tough to feel charitable when your net worth is getting demolished.
In addition, gas and food prices have increased over the past four years, and these increases have also conspired to increase the monthly expenses of the average American household.
According to the Mint.com report, American households are eating out more and spending more money on premium groceries.
On top of all of that, spending on health care in the average US household has increased more than 30% over the past four years.
Source:
Mint.com
Filed under:
General Knowledge