Down From Original Estimate of $845 Billion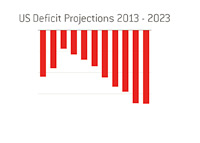 According to the CBO (Congressional Budget Office), the United States should post a deficit of $642 billion for the current fiscal year. This deficit, which would equal 4% of the GDP (Gross Domestic Product), would be the smallest posted since 2008.
The Congressional Budget Office had originally estimated that the United States would post a deficit of approximately $845 billion in the 2013 fiscal year. Higher than expected revenues and lower than expected outlays have conspired to create a $642 billion deficit projection from the CBO.
For the 2014-2023 period, the CBO projects total deficit spending of approximately $6.3 trillion, which is $618 billion less than the number that was projected by the CBO in February.
The CBO points to a number of different factors for the increase in federal revenues, including:
-expiration of payroll tax cut
-tax rates on certain personal income thresholds increasing
-increase in personal incomes
When it comes to outlays, the CBO points to the Budget Control Act of 2011 as a major reason for lower government expenditures, in addition to "expected changes in the economy, demographics and other factors."
--
The CBO predicts that the federal deficit will continue to drop until 2015, before it starts to balloon once again. The increased deficits will come as a result of a number of different factors, including an aging population and the increased cost to service the federal debt.
Let's look at the CBO's deficit projections from 2013 until 2023:
2013 - $642 billion
2014 - $560 billion
2015 - $378 billion
2016 - $432 billion
2017 - $482 billion
2018 - $542 billion
2019 - $648 billion
2020 - $733 billion
2021 - $782 billion
2022 - $889 billion
2023 - $895 billion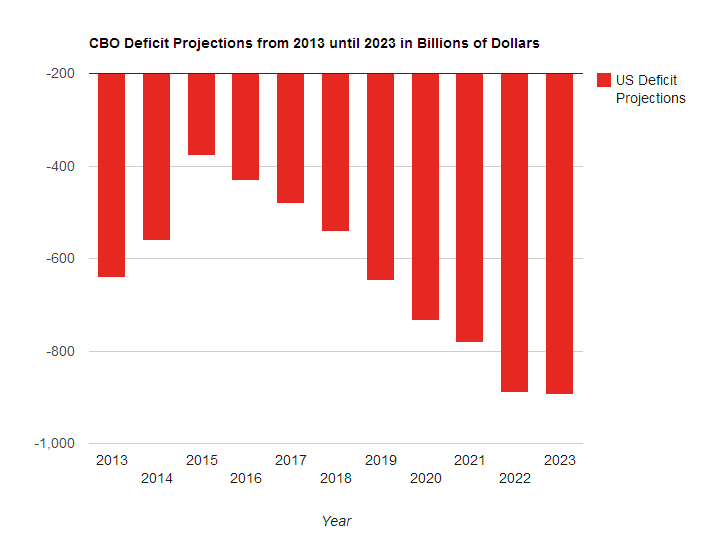 It's interesting to note that the CBO predicts that by 2019, "off-budget" outlays will be helping to contribute to the nation's deficit, meaning that we will be paying out more than what we take in. In years past, contributions to Social Security have been higher than the amount that has been paid out, which has provided a source of funding for the federal government (the government issues an IOU for any excess funds in the Social Security trust funds).
By 2019, the federal government will be paying out more than what it takes in when it comes to off-budget outlays.
--
One more interesting note - the CBO estimates that the federal government will be paying a whopping $823 billion to service their debt by 2023. This compares to the $223 billion that is estimated to be paid out by the US government in the current fiscal year.
Source: CBO.gov -
Updated Budget Projections: Fiscal Years 2013 to 2023 (*.pdf)
Filed under:
General Knowledge