How Much Is The Vice President Worth?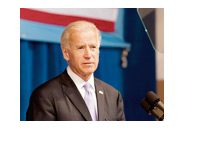 The White House recently released the 2012 financial disclosure reports for both President Obama and Vice President Biden.
Of the two men, President Obama is far wealthier than Vice President Joe Biden. Vice President's Biden biggest asset is listed as a rental property in Wilmington, DE that is valued at between $100,001 and $250,000. President Obama, on the other hand, owns between $1,000,001 and $5,000,000 of US Treasury Notes.
It's important to note, however, that Obama and Biden aren't required to list their primary residences in their financial disclosure reports, which means that both men are worth substantially more than what is listed in these reports. The mortgages on their primary residences, however, are included as liabilities.
--
Aside from his primary residence, Vice President Biden and his wife own four assets that are worth at least $15,001. They are:
Rental Property, $100,001 - $250,000
Wilmington Savings Fund Society - $50,001 - $100,000
Wilmington Savings Fund Society, CD - $50,001 - $100,000
Deferred Comp - State of DE, Fidelity Freedom 2020 Fund - $15,001 - $50,000
On the other hand, the Bidens have a number of liabilities, including:
Mortgage on Primary Residence (Including Rental Property), $500,001 - $1,000,000
Home Equity LOC - $100,001 - $250,000
Home Equity LOC - $100,001 - $250,000
--
In addition to the $230,700 salary that he earned for serving as Vice President of the United States, Biden and his wife also brought in $32,798 from a state pension plan and between $15,001 and $50,000 in rental income from their property in Delaware.
--
In total, Vice President and his wife have a net worth of between -$1,425,972 and $114,993, excluding the value of their primary residence. Values for assets are given in ranges, which is why there is such a gap between their minimum and maximum net worths.
Vice President Biden and his wife's 2012 income, based on the disclosure report, was between $281,104 and $321,498 in 2012.
Source:
Joe Biden Net Worth
Photo:
Tschi
Filed under:
General Knowledge