US Household Wealth Hits $70.4 Trillion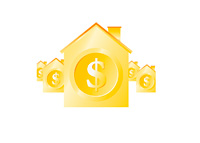 According to a report from the Federal Reserve that was released earlier today, US household wealth increased to roughly $70.4 trillion during the first quarter of 2013, an increase of about $3 trillion from the quarter before.
In nominal terms, this means that total US household wealth has completely recovered after taking a massive dip due to the "Great Recession".
According to the Federal Reserve, American households benefited tremendously from a strengthening real estate market and seemingly unstoppable stock market during the first quarter of 2013. The Fed calculates that the rising stock market added $1.5 trillion to US household wealth during the first three months of 2013, while the strengthening real estate market added an additional $800 billion.
--
As mentioned, the United States broke a new all-time household wealth record in terms of nominal dollars last quarter, but we are still below the pre-"Great Recession" peak after adjusting for inflation.
Prior to the start of the "Great Recession", US household wealth topped out at $67.2 trillion. After adjusting for inflation, that number becomes $75.76 trillion in 2013 dollars.
Another few things to consider that the St. Louis Fed pointed out last week:
1) There are more households now compared to 2007
2) Wealthy households have seen their net worths surge compared to the rest of the population thanks to their heavy exposure to the stock market
According to UBS, only 63% of US households have been able to reverse their losses after adjusting for inflation.
--
Source: WSJ.com -
Household Wealth Jumps to Pre-Recession Levels
Filed under:
General Knowledge