Elon Musk's Net Worth Has Soared Over the Past 12 Months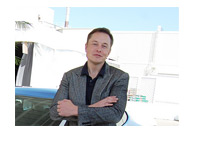 When you hear the name Elon Musk, you likely think of Tesla Motors.
Tesla Motors (TSLA), is a company that designs, manufactures and sells electric cars and electric vehicle powertrain components.
Tesla Motors, who was co-founded by Musk, has been one of the biggest stock market stories of the past year. The company, which recently paid back its federal loan nine years early, has soared from $30 to over $100 in the past twelve months.
The parabolic rise in the shares of Tesla Motors has obviously meant good things for Musk, as he is Tesla Motors' largest shareholder. Musk owns 33,076,212 shares of the company, which have provided a $2 billion boost to Musk's fortune over the past year.
--
Musk's strong year doesn't stop there.
Musk, who Robert Downey, Jr. modelled the "Tony Stark" character from Iron Man after, has his hands in a number of other companies as well.
For instance - Musk is the chairman of the board of SolarCity (SCTY) and is also the company's largest shareholder. Musk currently owns 20,724,991 shares of SCTY, which makes him the company's largest shareholder.
Shares of SCTY, which opened for trading on December 13th, 2012 at $9.25, are currently trading at $35.96.
As if that wasn't enough, Musk is also the CEO and CTO of SpaceX, which is a space transport company that recently became the first privately held company to send a cargo payload to the International Space Station. The company has contracts with NASA, the American military and a number of different private sector companies. There have been rumblings of a SpaceX IPO in the near future. You can be sure that Musk is the largest shareholder of SpaceX as well.
--
Prior to founding or co-founded Tesla, SolarCity and SpaceX, Musk started and sold Zip2 for $340 million (1999) and Paypal for $1.5 billion (2002). Musk reportedly walked away with over $175 million after selling Paypal to Ebay.
--
Never one to rest on his laurels, Musk is already looking ahead to his next project, which he has called the "Hyperloop".
According to Musk, the "Hyperloop" will be a "fifth mode" of transportation that would allow people to travel from San Francisco to Los Angeles in less than 30 minutes.
--
Elon Musk, who is notorious for pouring most of his wealth into his new ventures, has seen his net worth balloon over the past 12 months to its current level of just over $4.6 billion.
As stated earlier - it's been a good year for Musk.
Source:
Elon Musk Net Worth
Photo:
pestoverde
Filed under:
General Knowledge