195,000 Nonfarm Payroll Jobs Added in June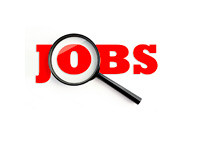 The US economy added 195,000 nonfarm payroll jobs during the month of June according to the Bureau of Labor Statistic's "Employment Situation Summary" report that was released earlier today.
The 195,000 nonfarm payroll jobs number was about 30,000 higher than the economist consensus of 165,000.
The national unemployment rate was unchanged at 7.6% in June.
--
This was a very important jobs report as the FOMC is closely scrutinizing the state of the country's job market in order to determine when they should start tapering their $85 billion/month fiscal stimulus program. The general consensus is that today's jobs report makes it very likely that the Fed will start to "taper" their bond buying in September. Fed Chairman Ben Bernanke has publicly stated that he hopes to completely phase out the bond buying program in 2014, provided that the economy performs as expected.
--
Let's take a closer look at the jobs report that was released earlier today.
The civilian noninstitutional population increased to 245,552,000 from 245,363,000 in June, for a total gain of 189,000. The civilian noninstitutional population includes all Americans aged 16 and older who are not inmates of an institution (jail, mental facility, etc) or on active duty in the armed forces.
The civilian labor force, which consists of those in the civilian noninstitutional population who currently have a job or are actively looking for work, increased by 177,000 to 155,835,000 in June. This resulted in the labor force participation rate ((civilian labor force / civilian noninstitutional population) * 100) ticking up 0.1% to 63.5%.
The total number of employed in the United States increased by 160,000 to 144,058,000 in June, while the total number of unemployed also increased (17,000 to 11,777,000).
The unemployment rate for men over the age of 20 declined 0.2% to 7.0% in June, while the unemployment rate for women over the age of 20 increased 0.3% to 6.8%.
The number of people who took part-time jobs for "economic reasons" (meaning that they want full-time work but can only find a part-time job) increased by 322,000 to 8,226,000. This number helped push the
U-6 unemployment rate
from 13.8% to 14.3% in June, which is quite a big jump.
The nonfarm payroll numbers were altered for both April and May:
April
+149,000 to 199,000
May
+175,000 to 195,000
--
Source:
BLS.gov
Filed under:
General Knowledge