US Economic Growth Forecast Downgraded To "Modest" From "Moderate"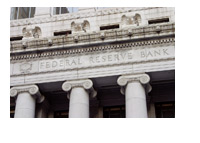 The Federal Reserve revealed on Wednesday that the US economy is currently growing at a "modest" clip. This is a slight, but important, difference from the Fed's June statement in which they described US economic growth as "moderate".
There was talk that the Federal Reserve would start "tapering" their $85 billion/month bond buying program later in the year (September was targeted by many), with a full withdrawal from the program targeted for sometime in 2014.
Today's statement from the Federal Reserve changes that timeline, as the Fed has revealed that they will continue their bond buying program, in full, for the foreseeable future. The Fed had previously revealed that they would have no problem continuing the program if the economy showed signs of slipping.
Today's statement from the Federal Reserve comes on the heels of the release of the Q2 GDP "advance" estimate number from the Bureau of Economic Analysis. The BEA revealed that the US economy grew at a rate of 1.7% in the second quarter, which topped most estimates, but they also said that the numbers from the previous two quarters had been revised lower. The growth that the country has been posting in recent quarters can only be described as sluggish.
--
The Federal Reserve still expects that economic growth will pick up in the second half of 2013.
The Fed has said that they plan on keeping long-term interest rates low until the national unemployment falls below 6.5%. The national unemployment rate currently sits at 7.6%.
Filed under:
General Knowledge