How Does President Obama's Approval Rating Compare?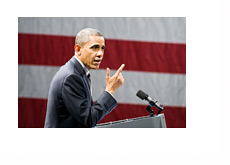 According to a recent Gallup.com poll, President Barack Obama currently has an approval rating of 46%.
President Obama has had his share of ups and downs since he first set foot in the White House as the leader of the country. In the "honeymoon" phase of Obama's Presidency (early 2009), his approval ratings stood at well over 60%.
Over the next 1,670 days or so, President Obama would experience some high points (the death of Osama bin Laden) and some low points (NSA leak and a number of other scandals). In the end, sitting Presidents can withstand scandals if the economy is performing well, but the US economy has never really lifted into overdrive since President Obama took over the job of running the country. This leaves the American population to closely scrutinize other policies and revelations, such as "Obamacare", Benghazi and the Edward Snowden leaks.
--
All US Presidents endure their own trials and tribulations - it's practically impossible for somebody to occupy the White House for 4 or 8 years without being tarnished by some sort of scandal or misstep.
With that being said, I thought that it would be interesting to look at the approval ratings of past two-term Presidents in the modern era roughly 1,700 days into their Presidencies, and compare their numbers to Obama's current approval rating.
As mentioned, President Obama currently has an approval rating of 46%.
At this time in his Presidency, George W. Bush had an even lower approval rating - 40%. Much like Obama, George W. Bush's approval rating eroded quickly following his re-election. Despite a strong economy and real estate market (at least until 2007), George W. Bush was never able to move back above a 50% approval rating.
President Clinton, on the other hand, was a completely different story.
In August of 2007, President Clinton had a 60% approval rating. Unlike George W. Bush and Barack Obama, President Clinton was able to increase his approval rating from the start of his second term, largely due to the very strong US economy. When President Clinton left office at the end of 2000, his approval rating stood at 65%.
Next up - another unbelievable popular two-term President, President Ronald Reagan.
President Reagan stepped into a very volatile situation when he took over as President in 1981. The US economy was being ravaged by "stagflation" (high inflation coupled with low economic activity), which caused the US unemployment rate to soar to over 10%. Sure, President Reagan would leave the White House as one of the most popular US Presidents in history, but the beginning of his time in the White House was anything but smooth.
As we all now know, the US economy turned around under Reagan and he went on to easily secure a second term. By the time that he left the White House, his approval rating was also above 60%.
According to Gallup.com, President Reagan's approval rating was sitting at 65% in the summer of 1985. Given how divided the nation currently is, you really have to be in awe of a President who commanded an approval rating of 65% at that stage of his Presidency.
Next up - President Nixon.
President Nixon wasn't always an unpopular President - as a matter of fact, his approval rating was in the mid 60s shortly after he won re-election.
However, we all know how his Presidency ended up turning out, as he would not end up completing his second term in the White House. In the summer of 1973, his approval rating sat at 35%. By the time that he left the White House, Nixon's approval rating would be in the low 20s.
--
Finally, the approval ratings for Truman, Eisenhower and Johnson roughly 1,700 days into their Presidencies:
Truman - 45%
Eisenhower - 63%
Johnson - 42%
--
Source: Gallup.com -
Presidential Job Approval Center
Filed under:
General Knowledge