Less Than a Month To Figure Out Debt Ceiling Issue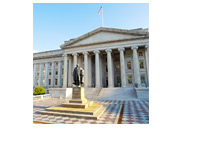 The countdown is now officially on.
Earlier today, Treasury Secretary Jack Lew, in a letter that was released to the media, warned that US politicians have until October 17th to figure out the debt ceiling issue.
If the debt ceiling isn't raised by October 17th, Lew warns, the Treasury will be left with just $30 billion to "meet the country's commitments". According to Lew, "this amount would be far short of net expenditures on certain days, which can be as high as $60 billion."
In short - the nation will quickly default if the debt ceiling isn't raised by October 17th.
--
It's important to remember that the nation reached its borrowing limit of $16.7 trillion on May 19th. "Extraordinary measures" have been used by the Treasury to buy the nation some more time, but that extra time is set to run out in less than a month. "Extraordinary measures" includes such measures as temporarily not reinvesting the Federal Employees' Retirement System G-Fund and Exchange Stabilization Fund. These "extraordinary measures" usually give the federal government an extra $200 billion of additional borrowing authority.
--
Some have floated the idea of prioritizing payments if October 17th comes and goes without a debt ceiling deal being done.
According to Treasury Secretary Lew, such an idea is unacceptable and payments should not be prioritized.
The Republicans and Democrats have been digging in their heels in anticipation of a spirited fight in the early weeks of October. President Obama and the Democrats have already stated that they will not negotiate on the debt ceiling, while the Republicans have floated a number of provisions that would be attached to an increase in the debt ceiling.
--
In the end, a debt ceiling deal will almost certainly be done, as nobody wants to even imagine what would happen if the United States ended up defaulting. Analysts have already warned that such an occurrence would be a "black swan event" that would have catastrophic repercussions, both for the United States and the entire world. Nobody wants to go down that dark and dangerous road, so it will be interesting to see which side ends up blinking first.
The countdown is on.
Source: MSNBC.com -
US Has Until Oct. 17 to Raise Debt Limit - Or Risk Default
Filed under:
General Knowledge