Markets Performed Well During Last Shutdown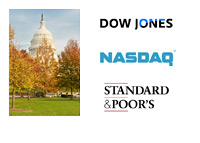 Thanks to the ongoing dispute between House Republicans and Senate Democrats, the US federal government is enduring its first partial shutdown in nearly 17 years.
October 1st, 2013 was the first day of the partial shutdown after House Republicans and Senate Democrats failed to agree to a short-term bill that would continue to fund the government. House Republicans wanted to attach provisions to a funding bill that would repeal or delay key parts of "Obamacare", while Senate Democrats insisted on a "clean" funding bill that was free of any changes to the Affordable Care Act, aka "Obamacare".
Thanks to the shutdown, 800,000 "non-essential" federal workers will be forced to stay at home. Non-essential services, such as the operation of national parks, are suspended until the situation is resolved.
--
This isn't the first time that a partial shutdown of the federal government has taken place.
The last time that it happened? The winter of 1995/1996. The major players in the dispute? President Bill Clinton and Speaker of the US House of Representatives, Newt Gingrich.
There were actual two shutdowns that occurred during the last dispute. The federal government initially shut down from November 14th, 1995 until November 19th, 1995, only to be revived by a temporary spending bill.
The government shut down again on December 16th, 1995, and didn't re-open until January 6th, 1996. In total, the federal government was shut down for a total of 28 days.
--
Many people were surprised to see that the markets were actually higher on October 1st. In reality, the markets are largely shrugging off the dispute, as it is expected to come to a fairly quick resolution.
I thought that it would be interesting to see how the markets performed during the last federal government shutdown. As you will see, the markets actually did extremely well from November 14th, 1995 to January 8th, 1996 (note, January 8th, 1996 was the first trading day after the federal government re-opened):
DJIA
Open on November 14th, 1995 - 4,872.90
Open on January 8th, 1996 - 5,181.43
NASDAQ
Open on November 14th, 1995 - 1,054.14
Open on January 8th, 1996 - 1,034.34
S&P 500
Open on November 14th, 1995 - 592.30
Open on January 8th, 1996 - 616.71
--
So, the DJIA and S&P 500 did well during the federal shutdown saga of 1995/1996, while the NASDAQ traded off slightly.
It should be noted that the markets sold off aggressively once the federal government officially re-opened for the second time.
Filed under:
General Knowledge