Labor Force Participation Rate of Just 62.8% Posted in October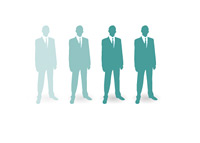 When the October job numbers came out, the markets momentarily buckled before surging higher.
In the end, the markets focused on the +204,000 nonfarm payroll jobs number (much higher than expected) rather than the raft of somber data that was buried throughout the rest of the report. Most economists had been expecting a hit to the nonfarm payroll jobs number due to the partial shutdown of the federal government, and the markets rallied after this failed to materialize.
However, as mentioned, the October jobs report contained a number of troubling data points. One of the most troubling? The labor force participation rate, which dropped 0.4% to 62.8% in October.
This was the lowest labor force participation rate number that has been posted in the past 35+ years. You have to go all the way back to March of 1978 to find the last time when the United States had a labor force participation rate of 62.8%. (note: in March of 1978, the national unemployment rate was 6.3% and the nation had a civilian labor force of 101,092,000.)
--
According to the Bureau of Labor Statistics, the labor force participation rate "is the share of the population 16 years and older working or seeking work."
The official formula for the labor force participation rate looks like this:
(Civilian Labor Force / Total Non-institutionalized Civilian Population) x 100
The "civilian labor force" consists of people who are either employed or unemployed, while the "total non-institutionalized civilian population" is the total population minus a few key groups (kids under the age of 16, people in prisons or other institutions, military personnel).
So, according to the BLS, just 62.8% of the total non-institutionalized civilian population was either working or looking for work (which you have to be doing to be considered unemployed) in October.
--
Let's show some previous labor force participation rates from several key times over the past 35 years:
March 1981, 64.1%
May 1991, 66.2%
December 1999, 67.1%
December 2002, 66.3%
December 2008, 65.8%
November 2012, 63.6%
President Obama is the first President since Jimmy Carter to have a sub 63% labor force participation rate posted on his watch.
--
Of all of the data points contained in the October jobs report, the labor force participation rate was one of the most troubling.
Source:
Bls.gov
Source:
National Unemployment Rate Database
Filed under:
General Knowledge