Elon Musk Took Home $78.2 Million in Compensation This Year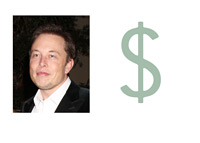 Earlier today, Time Magazine released their "Top 10 of Everything 2013" compilation of lists.
One of the more interesting lists, at least for me, was the "top 10 highest paid CEOs of 2013" list.
At the top of that list, with a total compensation package of $78.2 million, was Elon Musk.
It's not hard to see why Tesla Motors chose to richly reward their CEO in 2013 - after all, the stock spent most of the year going parabolic. Shares of Tesla Motors (TSLA) have stumbled in recent weeks and are currently trading at $138.84. However, at the beginning of 2013, shares of the company could be bought for less than $35/share, as Tesla Motors benefitted from spending most of the year in the spotlight. As 2013 draws to a close, Tesla Motors boasts a market cap of over $17 billion and has caught the attention of investors across the globe.
Larry Ellison
, founder and CEO of Oracle, was second on the list with a compensation package of $77 million. Oracle has had a pretty uneven year, and Ellison's most recent compensation packages have drawn the ire of many of the company's shareholders.
The rest of the top 5 looks like this:
3. Mario Gabelli (Gamco Investors), $69 million
4. Robert Kotick (Activision Blizzard), $64.9 million
5.
Leslie Moonves
, (CBS) $62.2 million
CBS has done particularly well in recent years, avoiding the weakness that has plagued some of the other major TV networks. Moonves has been richly rewarded for his steady stewardship of the company, as he received a compensation package in excess of $60 million this year.
--
Here is the rest of the top 10:
6. John Hammergren (McKesson), $51.7 million
7. David Zaslav (Discovery Communications Class), $49.9 million
8. E. Hunter Harrison (Canadian Pacific Railway), $49.2 million
9. Richard Bracken (HCA Holdings), $46.4 million
10. Gerald Rubin (Helen of Troy), $41.6 million
Source: Time.com -
Top 10 Highest Paid CEOs
Filed under:
General Knowledge