Scandals Threaten Christie's Governorship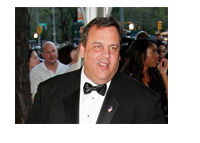 Back in November of 2013, CNN/ORC asked Republican and Republican leaning Independents who they currently favored for the 2016 Republican Presidential nomination.
The clear choice? New Jersey Governor Chris Christie. 24% of those surveyed said that they favored Christie for the nomination, putting him far ahead of Rand Paul (13%) and Paul Ryan (11%).
Things were particularly rosy for Christie at the time of the poll. Christie had just won re-election in New Jersey after garnering 60.4% of the vote, despite the fact that Democrats outnumber Republicans in the state. This bi-partisan appeal, pundits said, gave Christie the early edge in the race for the Republican Presidential nomination.
Chris Christie, many Republicans said at the time, may be our only chance of beating Hillary Clinton in 2016.
--
It's amazing how much things can change in just a few short months, as Chris Christie has gone from soaking in the adulation to fighting for his political life.
To start, Christie has been under fire after it was revealed that members of his staff had orchestrated a massive traffic jam as political retaliation for a mayor refusing to endorse Christie in his re-election bid.
The Democratic mayor of Fort Lee, Mark Sokolich, refused to endorse Chris Christie in his re-election bid. Two of Christie's closest aides at the time, Bridget Anne Kelly and David Wildstein, conspired to shut down two of three lanes leading to the George Washington Bridge in Fort Lee. These lanes remained closed for a period of four days, which ended up causing all sorts of havoc.
Chris Christie claimed that he had no clue about the schemings of Kelly and Wildstein, but most don't find this to be believable. Christie ended up firing two of his closest aides, former campaign manager Bill Stepien and former deputy chief of staff Kelly for their roles in the lane closures, but this has done nothing to quell the controversy. Many people say that this scandal has shown Christie's true colors to the world - that of a swaggering, bullying Governor who will move quickly to crush anybody who speaks out against him.
--
Earlier today, another scandal threatened to emerge for
Chris Christie
and his camp, after it was revealed that the Governor is facing questions regarding his use of Superstorm Sandy funds.
According to CNN, federal investigators are "investigating whether Christie improperly used some of that money to produce tourism ads that starred him and his family."
You can read more about the
developing story here.
(CNN.com)
--
The political world - one minute you are a darling, the next minute you are a pariah.
Will Gov. Christie be able to move past the bridge lane closure scandal? Are further revelations to come? What will this do to his rumored 2016 Presidential bid?
Source: Washingtonpost.com -
Broader investigation of N.J. bridge closures launched
Filed under:
General Knowledge