Clinton Currently The Favorite To Win Presidency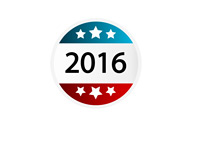 I was originally going to write an article about how poorly the markets did this past week, but I thought that might be a bit too gloomy for a Friday afternoon.
Instead, I thought that I would look at the current odds to win the 2016 US Presidential election (actually, I just realized that these odds may be gloomy to some, depending on the party that they support).
--
It shouldn't surprise anybody to learn that former Secretary of State Hillary Clinton is currently the favorite to win the Presidency in 2016. According to Intertops, an online betting site, Hillary Clinton is currently listed at 2/1 to win in 2016. Clinton hasn't announced her intentions for 2016 as of yet, but it is widely assumed that she will be running. This would obviously be bad news for the Republicans, as Hillary Clinton is a seasoned politician who just happens to be married to one of the most popular Presidents of the modern era. It doesn't take a political guru to realize that many people will vote for Hillary Clinton in an attempt to return to the "good old days" of the late '90s.
After Hillary Clinton at 2/1, we get a slew of potential Republican nominees, including:
Chris Christie, 15/2
Marco Rubio, 9/1
Jeb Bush, 14/1
Paul Ryan, 16/1
Rand Paul, 16/1
Chris Christie has seen his odds widen in recent weeks due to the bridge scandal, while potential nominees such as Paul Ryan and Rand Paul are only seen as having slim odds of winning the Presidency.
Here are the rest of the names on the list:
Andrew Cuomo, 18/1
Elizabeth Warren, 20/1
Joe Biden, 20/1
Martin O'Malley, 20/1
Rob Portman, 20/1
Deval Patrick, 25/1
Mark Warner, 25/1
Bobby Jindal, 28/1
Susana Martinez, 33/1
Ted Cruz, 33/1
Bob McDonnell, 40/1
Condoleeza Rice, 40/1
Michael Bloomberg, 40/1
Rahm Emmanuel, 40/1
Scott Walker, 40/1
Mitt Romney, 50/1
Rick Santorum, 50/1
Sarah Palin, 50/1
Corey Booker, 66/1
Mike Huckabee, 66/1
Rick Perry, 80/1
Donald Trump, 100/1
Dr. Ben Carson, 200/1
--
Here are the current odds for the Democrats, Republicans and Independents to Win in 2016:
Democratic Party, 4/5
Republican Party, 1/1
Independent, 66/1
Source:
Intertops.com
Filed under:
General Knowledge