Bill Gates Has Net Worth of $76 Billion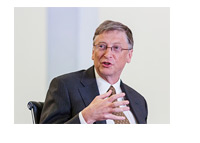 After spending a couple of years in second place, Bill Gates is now the world's richest billionaire once again.
Earlier today, Forbes published their list of the world's richest billionaires. Thanks to a rally in shares of Microsoft and a decline in shares of Minera Frisco, Bill Gates was able to overtake Carlos Slim Helu for the #1 spot on the list. According to Forbes, Bill Gates saw his net worth increase by roughly $9 billion over the past year. Note: Bill Gates has given away a large percentage of his wealth to his various charitable endeavours over the years.
Forbes notes that of the ten richest people in the world, only one (Carlos Slim Helu) lost money last year.
Here is Forbes' list of the top 10 richest billionaires:
1. Bill Gates, $76 billion
2. Carlos Slim Helu & Family, $72 billion
3. Amancio Ortega, $64 billion
4. Warren Buffett, $58.2 billion
5. Larry Ellison, $48 billion
6. Charles Koch, $40 billion
7. David Koch, $40 billion
8. Sheldon Adelson, $38 billion
9. Christy Walton & Family, $36.7 billion
10. Jim Walton, $34.7 billion
--
Forbes notes that 268 new billionaires were minted in 2013, bringing the total number of global billionaires to 1,645.
Mark Zuckerberg, co-founder and CEO of Facebook, had the best year of any billionaire in 2013, as he saw his net worth climb by $15.2 billion thanks to the surge in shares of Facebook.
Source: Forbes.com - The World's Billionaires
Photo:
Statsministerens kontor
Filed under:
General Knowledge