Mark Zuckerberg Now Worth Over $36 Billion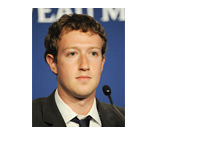 Forbes recently published its list of the world's richest people, with Microsoft co-founder Bill Gates topping the list with a reported net worth of $76 billion.
Forbes noted at the time that Facebook co-founder and CEO, Mark Zuckerberg, narrowly missed out on cracking its list of the world's richest people.
However, with the continued surge in shares of Facebook (shares of the company closed at $72.03 today after hitting a new all-time high of $72.15), Mark Zuckerberg is now likely one of the world's 10 richest people.
According to my estimates, Mark Zuckerberg currently has a net worth of approximately $36.4 billion, which would put him at #9 on the list of the world's richest people, just behind Sheldon Adelson and Christy Walton & family.
--
Facebook, as of today's close, has a market capitalization of $183.66 billion. That is about $10 billion less than IBM.
Facebook's dramatic turnaround since the company went public in May of 2012 has been well documented. There was a time when shares of Facebook could be had for less than $20/share - that was, of course, until the company figured out how to monetize their mobile users, and the rest is history.
Now, with the company seemingly hitting on all cylinders, analysts are rushing to issue optimistic earnings projections and price targets.
Is all of this optimism justified, or are shares of Facebook getting ahead of themselves?
One thing is for sure - Mark Zuckerberg is smiling as his net worth continues to soar into the clouds.
Source:
Mark Zuckerberg Net Worth
Photo:
Guillaume Paumier
Filed under:
General Knowledge