$216 Billion in Receipts, $253 Billion in Total Outlays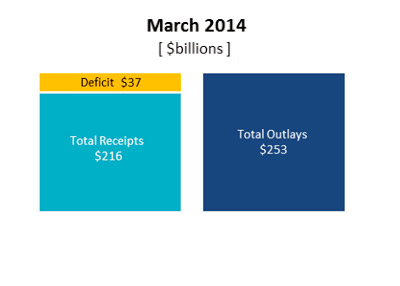 According to the "Monthly Treasury Statement of Receipts and Outlays of the United States Government" from the Bureau of Fiscal Service of the Department of the Treasury, the United States posted a deficit of $37 billion in March, down significantly from the $107 billion deficit that was posted in March of 2013.
The deficit shrank as a result of higher revenues (up 16% from last year) and lower spending (down 14% from last year). In total, the US government spent $253 billion in March of 2014 while collecting a total of $216 billion in taxes and other fees.
For the current fiscal year, the United States has posted a deficit of $413 billion on receipts of $1.321 trillion and spending of $1.734 trillion. The country had posted a deficit of $600 billion up until the end of March during the 2013 fiscal year.
—
Where did the revenues come from in March? Let's break it down:
Individual Income Taxes, $71.145 billion
Corporate Income Taxes, $32.133 billion
Employment and General Retirement (Off-Budget), $69.922 billion
Employment and General Retirement (On-Budget), $19.647 billion
Unemployment Insurance, $473 million
Other Retirement, $308 million
Excise Taxes, $6.375 billion
Estate and Gift Taxes, $1.152 billion
Customs Duties, $2.475 billion
Miscellaneous Receipts, $12.216 billion
Now, the five largest expenditures in March by department:
Social Security Administration, $71.021 billion
Department of Health and Human Services, $59.649 billion
Department of Defense-Military Programs, $44.888 billion
Department of the Treasury (Interest on Debt Securities), $26.270 billion
Department of Agriculture, $10.983 billion
—
The nation has seen its deficit spending decrease significantly over the past couple of years thanks to restrained spending and an uptick in revenues. Unfortunately this trend is expected to be temporary as deficits are expected to climb back up to $1 trillion over the coming years.
Source: FMS.Treas.gov -
Monthly Treasury Statement of Receipts and Outlays of the United States Government (*.pdf)
Filed under:
General Knowledge