Number of Americans Not In The Labor Force Hits All-Time High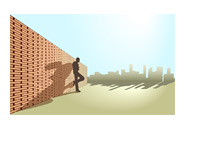 The Bureau of Labor Statistics ("BLS") released the April job numbers on Friday.
If you looked at the headline numbers you would think that the US economy had knocked it out of the park in April - 288,000 jobs added, while the national unemployment rate dropped a staggering 0.4% to 6.3%.
However, these "rosy" numbers are not nearly as rosy as they seem. As a matter of fact, when you start peeling back the layers, you can see that US workers are still very much suffering.
Let's start with the "not in labor force" statistic. This represents all of the members of the "civilian noninstitutional population" (meaning those Americans 16 years of age and older who are currently not in the Armed Forces, jail or some kind of other institution) who are neither employed or unemployed. These are people who are not employed and not actively looking for work.
In April, there were a total of 92,018,000 Americans who were "not in the labor force", which was an increase of 988,000 from the month before. This is an all-time high.
The "labor force participation rate", which is found by dividing the civilian labor force (people who are either employed or actively looking for work) by the civilian noninstitutional population, hit a 36-year low in April. The last time that the labor force participation rate was this low (62.8%) was March of 1978. The falling labor force participation rate is obviously a disturbing trend that will need to be reversed if the economy hopes to make meaningful strides in the future.
--
About the falling unemployment rate?
The number of "unemployed" in the United States fell by 733,000 in April, while the number of people "not in the labor force" increased by 988,000. The number of employed Americans actually FELL by 73,000, despite the fact that the unemployment rate dropped so dramatically.
The vast majority of the Americans who are no longer unemployed did not find work in April - instead, they simply moved from "unemployed" to "not in the labor force". Divide 9,753,000 unemployed Americans by the civilian labor force of 155,421,000 and you arrive at an unemployment rate of 6.3%.
--
April's job report contained a number of worrying statistics that should trouble the American public.
Source: BLS.gov -
Employment Situation Summary
Filed under:
General Knowledge