Belgian Holdings of US Debt Have More Than Doubled Over The Past 12 Months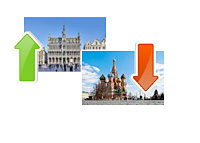 Foreign holdings of US debt hit another record in March according to the Treasury Department, as foreign entities boosted their holdings of US debt $59.3 billion to $5.9494 trillion.
One of the most notable pieces of information in today's report from the Treasury - Belgium continued to add aggressively to their holdings, as they purchased another $40.2 billion of US debt to bring their total holdings up to $381.4 billion.
As we've said before, this is almost certainly not the Belgian government that is snapping up all of this debt. Instead, it is likely either a nation that is using Belgium as a financial centre or an investor(s) using Euroclear, which is based in Brussels.
In any case, the spike is certainly interesting and raises the question - who is buying all of this US debt? Regardless of where it is being bought, some entity is buying all of this debt via Belgium.
--
Here were the five largest holders of US debt as of March 2014:
China, $1.2721 trillion
Japan, $1.2002 trillion
Belgium, $381.4 billion
Caribbean Banking Centers, $312.5 billion
Brazil, $245.3 billion
--
Russia, which has seen its relationship with the United States deteriorate rapidly over the past number of months, is dumping their US debt like crazy right now.
As a matter of fact, Russia's holdings of US debt dropped by over 20% to $100.4 billion in the month of March. Over the past year, Russia's US debt holdings are down by over 34%.
Russia is clearly looking to minimize their exposure to the United States right now and are getting rid of their US debt hand-over-fist.
Source:
Largest Foreign Holders of US Debt
Filed under:
General Knowledge