Markets Up After The News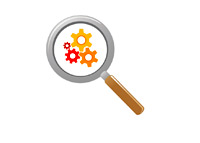 The May employment report was released by the Bureau of Labor Statistics ("BLS") earlier today.
The numbers came in more or less as expected in May, as the economy added 217,000 nonfarm payroll jobs in the month while the unemployment rate stayed unchanged at 6.3%. Economists had been expecting that the country would add 218k nonfarm payroll jobs and that the unemployment rate would tick slightly higher to 6.4%.
The markets were up after the report, with the DJIA and S+P 500 both hitting new all-time highs.
-
Let's break down the numbers from May's report.
The civilian noninstitutional population, which consists of all Americans over the age of 16 who are not currently in any institution (jail, Armed Forces, etc), rose 183,000 to 247,622,000 in May.
The civilian labor force, which are the members of the civilian noninstitutional population who are currently employed or actively looking for work, increased 192,000 to 155,613,000. If you divide the civilian labor force by the civilian noninstitutional population, you are left with the labor force participation rate, which clocked in at 62.8% in May. This number, which was unchanged from last month, is currently sitting at a multi-decade low.
The number of employed Americans increased 145,000 to 145,814,000 in May, while the number of unemployed Americans also increased by 46,000 to 9,799,000. This resulted in an unemployment rate of 6.3%.
The number of people "not in the labor force" (which means neither working or actively looking for work) dropped 9,000 to 92,009,000. If you'll remember, this number increased by almost a million people in the previous month, which caused the unemployment rate to drop by 0.4%.
The unemployment rates for adult men (6.3%) and adult women (5.9%) remained unchanged in May, while the unemployment rate for teenagers increased slightly from 19.1% to 19.2%.
The number of people unemployed for less than 5 weeks increased 112,000 to 2,559,000 in May, while the unemployment rates for those unemployed for anything more than 15 weeks dropped.
-
The U-6 unemployment rate, which is an alternative measure of labor underutilization, dropped 0.1% to 12.2% in May.
Source:
BLS.gov
Filed under:
General Knowledge