Would Mitt Romney Run Again?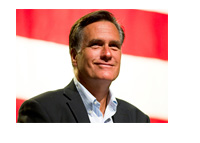 Would 2012 Republican Presidential candidate Mitt Romney run for President again?
Romney has been fairly resolute in his stance that he is not interested in running for President again, but recent poll numbers in states such as New Hampshire may help him to change his mind.
According to a recent Suffolk University/Boston Herald poll, Mitt Romney was the clear favorite when people were asked which Republican candidate they would support for a run at the Presidency in 2016.
24.2% of those surveyed said that they would support Mitt Romney for the Republican nomination, easily outpacing the likes of Chris Christie (9.25%), Jeb Bush (8.19%) and Rand Paul (7.83%).
Many people believe that there is a good chance that Jeb Bush ends up winning the nomination, but Romney's addition to the field would likely change things completely.
-
Romney once worried that he would be branded a "loser for life" after losing to President Obama in the 2012 Presidential election, but things have not turned out that way. As a matter of fact, Romney recently hosted an "ideas summit" in Utah that drew the likes of Rand Paul and Mike Huckabee.
Montana Governor Brian Schweitzer recently remarked that Romney was a "giant in a field of midgets", and others agree that Romney is, at this point, the only potential Republican candidate that would have much of a chance against Hillary Clinton in 2016.
Romney has been active in the press as of late, taking the Democrats to task on issues such as the upswing of violence in Iraq.
-
Let's also not forget that Romney was laughed at during the 2012 Presidential race for listing Russia as America's greatest geopolitical foe. As a matter of fact, President Obama went out of his way to ridicule Romney for that remark.
Nobody is laughing now, and nobody would be surprised if Romney ended up throwing his hat into the ring in 2016.
Source:
SUPRC/Boston Herald Poll (*.pdf)
Filed under:
General Knowledge