Trump Currently Has Support of 32% of Republicans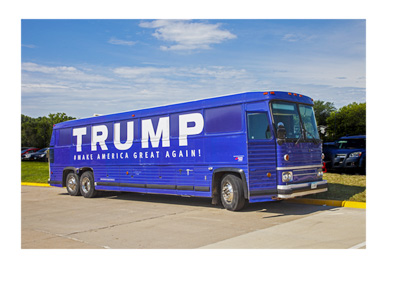 Shortly after the second GOP debate on CNN, Republican front-runner Donald Trump seemed to have lost some of his momentum.
Exiled from Fox News once again, Trump saw some of his gains evaporate thanks to strong debate performances from the likes of Carly Fiorina and Marco Rubio. Many people felt as though Donald Trump's Presidential campaign would completely implode once he started to lose momentum - was this finally coming to fruition?
According to a new Ipsos/Reuters poll, Donald Trump has seemingly stabilized the ship and is now seeing his momentum grow once again. According to the poll numbers, 32% of Republicans say that they support Trump's bid for President, up from 30% last week. Ben Carson is currently in second place with 12% support, while Jeb Bush (10%) and Carly Fiorina (8%) continue to lag far behind. The momentum that Fiorina enjoyed after the second GOP debate seems to have dissipated, and it will be interesting to see whether or not she can regain it.
-
On the Democratic side of things, Hillary Clinton also seems to have stabilized as she continues to maintain a comfortable lead over both Bernie Sanders and Joe Biden. Clinton, who started her campaign with a lead of over 50 points, has seen Bernie Sanders catch up to her thanks to the continued controversy over her private email server. The former Secretary of State, however, seems to have stopped the bleeding for the moment, much to the delight of her supporters. The Clinton campaign called out the big guns earlier this week, as former President Bill Clinton took to the media to defend his wife and chastise both the media and the Republican party over the email server story.
-
Those who have been clamoring to see a Donald Trump vs Hillary Clinton Presidential race in 2016 can take comfort in the fact that both of them have seemingly stabilized their campaigns after enduring some rough patches.
Source: Ipsos-na.com -
Ipsos/Reuters Poll (October 2): Core Political Approval
Filed under:
General Knowledge