Price of Thanksgiving Dinner Up Slightly From Last Year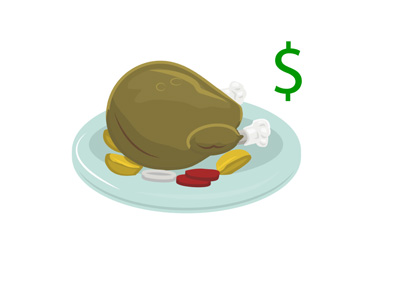 According to the 30th annual report from the American Farm Bureau Federation, the cost of Thanksgiving dinner this year will run the average American family $50.11, up slightly from last year's total of $49.41.
The American Farm Bureau Federation, which has compiled this report since 1986, dispatches shoppers all over America to get the average prices for the most popular items at our Thanksgiving tables, including the cost of the main course (turkey) and all of the trimmings. The exact list of ingredients looks like this:
-miscellaneous ingredients
-sweet potatoes
-whipping cream
-milk
-pumpkin pie mix
-relish try (carrots and celery)
-green peas
-cubed stuffing
-16 pound turkey
-fresh cranberries
-pie shells
-rolls
*note: the ingredients are enough to feed a Thanksgiving gathering of ten people
-
The cost of a 16-pound turkey is up $1.39 to $23.04 in 2015, thanks to some production disruptions earlier in the year. Other items, including milk and whipping cream, are actually lower year-over-year.
-
In 1986, a Thanksgiving dinner for 10 people would have set you back about $29. Over the years, this number has marched past the $50 mark, with the largest one-year increase taking place in 2011, when the cost of Thanksgiving dinner jumped by nearly $6 thanks to large increases in the price of many food items.
Source:
Thanksgiving Dinner Up a Tad, to Just Over $50
Filed under:
General Knowledge