$7.7 Million Made in Speeches To Big Banks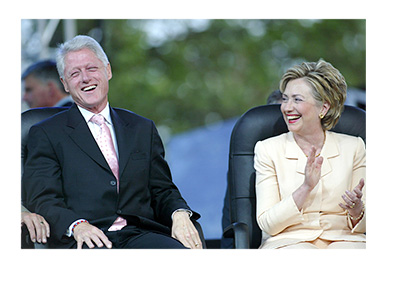 Earlier today, CNN.com revealed that former President Bill Clinton and his wife, former Secretary of State Hillary Clinton, have made over $150 million from paid speeches since February of 2001.
According to the report, the two have given a total of 729 combined speeches since Bill Clinton left the White House while receiving an average fee of $210,795. Former President Bill Clinton has made the bulk of the money, as he has amassed over $130 million from 637 speeches given since 2001, while his wife has given 92 speeches for a total payday of $21.648 million. Bill Clinton has had considerably more time to give speeches over the past 15 years than his wife, as Hillary Clinton has served as both a Senator and as the Secretary of State during that time.
-
Hillary Clinton's ties to "big banks" and Wall Street has become a focal point of the race for the Democratic Presidential nomination with Clinton's chief foe, Bernie Sanders, constantly hitting her on the topic. Sanders, who is anti-Wall Street, has accused Clinton of being far too cozy with companies such as Goldman Sachs and Morgan Stanley.
Since 2001, Bill and Hillary Clinton have given a total of 39 speeches (at least) to big banks while collecting a total of $7.7 million in fees in the process. Of this total, Hillary Clinton has given 8 speeches while collecting a total of $1.8 million in fees. Three speeches that were given by Hillary Clinton to Goldman Sachs in 2013, for which she collected a total of $675,000 in fees, have become a major talking point of recent Democratic debates.
According to CNN.com, Hillary Clinton has also given speeches to UBS, Bank of America/Merrill Lynch and Deutsche Bank over the past couple of years.
When asked at a recent debate why she made so much money from the three speeches that were recently given to Goldman Sachs, Hillary Clinton stated "that's what they offered" and that every former Secretary of State, to her knowledge, has given similar speeches.
-
With the email server scandal still festering, the Bernie Sanders campaign has had plenty to hit Hillary Clinton on in recent weeks. Will it be enough to give the Sanders' campaign the nomination?
Source: CNN.com -
$153 Million in Bill and Hillary Clinton speaking fees, documented
Filed under:
General Knowledge