High Profile Signing of Mayer Has Not Paid Off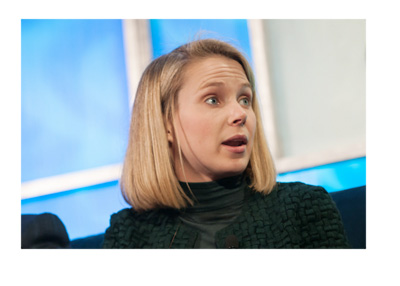 On July 16th, 2012, the struggling Yahoo! inked Marissa Mayer to a lucrative deal that saw her named as the new CEO and President of the company.
Mayer, who was one of the first employees of Google and one of the key drivers behind products such as Gmail and Google Maps, was supposed to be a transformative talent acquisition for Yahoo! Yahoo, which had spurned a takeover attempt from Microsoft years before, was languishing in a sea of competition that included the likes of Google and Facebook.
Mayer was tasked with the job of revitalizing Yahoo's "core" business, which included its search engine, advertising business and multiple media properties.
-
Less than four years after being named Yahoo's new leader, Marissa Mayer is now in very real danger of losing her job.
A number of Yahoo's most prominent shareholders argue that Mayer has bungled numerous transactions during her time as the company's CEO. Case in point - the $1.1 billion acquisition of Tumblr in 2013, which has since seen its value written down to less than $250 million. Revenues are dropping and the company is having a hard time retaining its top employees, which is why employee compensation expenses have soared as of late.
A number of activist hedge funds, including Starboard Value, have attacked Mayer's record as CEO and President of Yahoo!
The pressure from these funds has been undeniable, and in February of 2016, Mayer said that the company was considering the possibility of selling its core business. It seems fairly unlikely that any acquiring company would retain Mayer's services, which means that Mayer would likely find herself looking for another job in the event of a sale.
A number of potential suitors, including Verizon and the Daily Mail, have signalled interest in Yahoo! over the past couple of weeks. There is currently a deadline of next Monday set for companies to submit their bids for Yahoo's core business.
-
The point that has raised the interest (and ire) of these activist shareholders is the fact that the market is valuing Yahoo's core business at less than zero.
Yahoo! has some valuable assets under its umbrella, including its sizeable stakes in Alibaba and Yahoo! Japan, as well as cash and possibly billions of dollars worth of patents, not to mention its core business. Some are suggesting that Yahoo! should sell its core business and keep the rest of the assets in a stub company, while others believe that a company like Verizon might be interested in purchasing the entire Yahoo! operation, Asian assets and all. There are taxation issues regarding the company's stakes in Alibaba and Yahoo! Japan, though many believe that the company will be able to significantly minimize its tax exposure by simply selling its core business, rather than spinning off its stakes in Alibaba and/or Yahoo! Japan.
-
Many shareholders seem to be getting on board with the selling off of some or all of the Yahoo! operation, as the last 15 months or so have not been kind to the company's shares.
With momentum for a change growing, it seems increasingly unlikely that Marissa Mayer will be able to stay on as Yahoo's CEO going forward.
Disclaimer: I am currently long shares of Yahoo!
--
Photo:
JD Lasica
Filed under:
General Knowledge