Final Tally For Organization Expected To Clock in at $2.2 Billion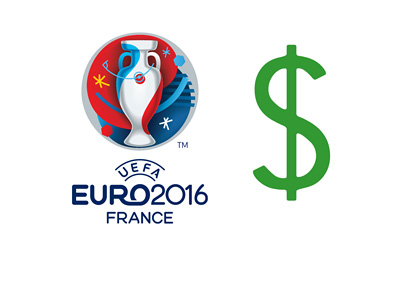 Speaking to the continued growth of the sport of soccer around the globe, UEFA (the Union of European Football Associations) is expected to make over $2 billion from this year's Euro 2016 tournament, up substantially from four years ago.
UEFA elected to expand the Euro tournament this year, including more teams (24) and more host cities. This resulted in more games, which, in turn, generated more ticket and TV revenues. This has resulted in an estimated take of $2.2 billion for UEFA, up substantially from the $1.5 billion that was generated in 2012 (Poland, Ukraine).
Of that $2.2 billion figure, roughly $1.155 billion came in the form of television rights, up 25% from 2012. The game of soccer continues to flourish across the world, especially in the United States, which has seen the game surge in popularity over the past 10 years.
Another $500 million or so was generated in the form of sponsorships - Coca-Cola and Adidas are just some of the blue chip brands who decided to sponsor the Euro 2016 tournament. This figure is up a whopping 40% from 2012.
The rest of the money is going to come in the form of ticket sales, which will be up significantly from 2012 thanks to more games and additional host cities. Tournament organizers elected to allow 24 teams into the tournament this year, up from 16 in 2012.
-
The Euro tournament is the second largest soccer tournament in the world - only the World Cup is bigger.
The 2014 World Cup, according to FIFA's 2014 financial statement, generated well in excess of $4 billion, with $2.4 billion coming from the sale of television rights and an additional $1.58 billion coming from the sale of marketing rights.
Source:
Bloomberg.com
Filed under:
General Knowledge