Donald Trump Now 6/4 To Win in November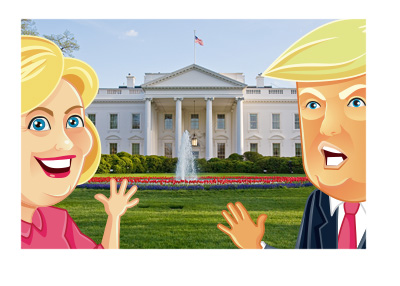 What a difference a couple of months makes.
Shortly after the Democratic National Convention came to an end, the US Presidential election seemed to be all but over.
Democratic nominee Hillary Clinton surged ahead in the polls after the DNC, thanks to a predictable post-convention bounce and a number of costly missteps by Donald Trump. At the height of Clinton's lead in the polls, Donald Trump was 4/1 at most bookmakers to win in November. In short - he would need a minor miracle to win.
In recent weeks and months, however, Donald Trump has managed to straighten out his campaign and regain support in the polls. As of this moment, Donald Trump is approximately 6/4 to win the election in November, which is an amazing bounce from the 4/1 odds that he had just a few months ago. If the trend continues, Trump may be even odds (or even a favorite) to win in November.
In past polls, Trump may have come close to Clinton in terms of the popular vote, though was trailing badly in the electoral college projections. Things have changed on that front as well, however, as Trump is now projected to win several key battleground states, including Florida. Obviously things could swing back in the other direction, though Trump's gains have been startling.
-
A number of things have transpired over the past 6-8 weeks that have managed to swing things back in Trump's direction.
One of the biggest issues revolves around Hillary Clinton's health. The Republicans have been hammering Clinton on her health, arguing that she is not physically fit enough to serve as President. Clinton, who reportedly had been suffering from pneumonia, recently re-emerged after a short time away from her campaign, proclaiming that she was now fit and ready to finish out her campaign.
Clinton has also struggled with continuing questions about her private email server that she used when she was Secretary of State, along with several other issues. In short - a large percentage of the US voting population doesn't trust Hillary Clinton.
Donald Trump, on the other hand, has re-calibrated his campaign, making appearances at churches in Flint and Detroit. In addition, the Trump campaign has tried to humanize the Republican candidate, as Trump has made appearances on Jimmy Fallon and "Dr. Oz".
-
With the debates quickly approaching, one thing is for sure - Clinton's seemingly sure victory in November is no longer a sure thing.
Filed under:
General Knowledge