Twitter Down Over 20% as Google, Apple and Disney Reportedly Turn Away From Purchase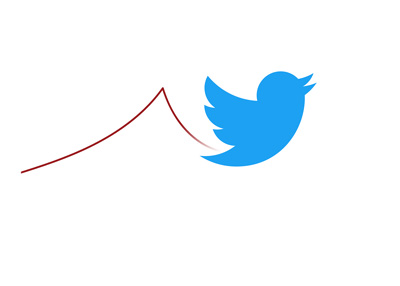 It was a tough day for Twitter shareholders as their stock, which has been buoyed by buyout talk for the past couple of months, came crashing down to earth. Shares of Twitter, Inc., which trade on the NYSE under the symbol TWTR, closed the day at $19.87 per share, down over 20% on the session.
It was just last week when it seemed as though a bidding war for Twitter might erupt. Companies like Salesforce, Google, Apple and even Disney were all seemingly interested in the company. Twitter shareholders scratched their heads as to why a company like Disney might be interested, though they were happy to have as much interest as possible.
Shares of Twitter roughly doubled over the past five months, largely due to the possibility of a buyout. The business prospects of Twitter as a standalone enterprise were shaky at best, as the company has not been able to gain much traction with advertisers, plus their user growth is stagnating. The idea was that a company like Google or Salesforce might be attracted to the sheer depth of data that Twitter possesses, or that Disney might see Twitter as a great way to push its content to the masses.
Those hopes don't look like they will materialize, however, as it has been reported that Google, Apple and Disney are not going to be placing bids for Twitter. Salesforce, which seemed to be the likeliest buyer of Twitter and the most outspoken about the possibility of acquiring the company, now suddenly seems to be getting cold feet about the purchase. Is Salesforce going to let the price of Twitter collapse before jumping in with an offer? We'll have to see.
-
Twitter's shareholders, who had been so optimistic about the possibility of a buyout over the past few months, are now left to consider the possibility that the company may have to continue going it alone. For many shareholders, this is not an appetizing prospect, as Twitter has clearly struggled to gain traction against the likes of Facebook.
There are reports that "other" companies are also interested in purchasing Twitter. Could somebody like Microsoft jump into the fray? Could Google be lured back in if Twitter's stock continues to crater? We'll have to see.
Twitter has told potential acquirers that it wants to consummate a deal, if there is a deal to be made, before their earnings report on October 27th. In short, the next few weeks will be very interesting for Twitter and its shareholders.
Filed under:
General Knowledge