Markets Continue To Rally Following Surprise Election of Donald Trump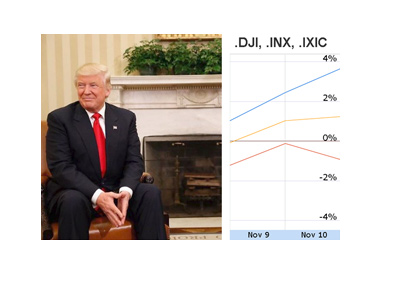 Heading into Tuesday's US Presidential election, many market experts warned about the fallout if Republican nominee Donald Trump won the election.
The markets will immediately tank, some of them said, and we might end up with an immediate "Great Recession"-like decline in the markets.
When it appeared as though Donald Trump was set to win the election, stock market futures immediately tanked, and it appeared as though these experts would be proven right.
A funny thing ended up happening, however, as global markets have put in a furious rally over the last two days, defying all expectations.
-
The rally has been led by banks such as Wells Fargo and Bank of America, which are expected to benefit greatly under a Trump government that will almost certainly reduce the regulations that have been imposed on banks over the past decade. There were more regulations that would have been passed until a Clinton government, but these will almost certainly be thrown out the window now.
Other industries that have rallied after the surprise Trump win include industrial goods, health care, biotech, services and basic materials.
Not all sectors have done well since the Trump win, as technology companies have taken the brunt of the hit. This is clearly evidenced in today's action in the markets, as the Dow Jones Industrial Average is up several hundred points while the NASDAQ is in the red.
Trump has been outspoken about several major tech companies, including the likes of Amazon.com and Apple. Trump said that Amazon had a "huge anti-trust problem" that he vowed to take action against, while he has vowed to force Apple to make their products in the United States. It's safe to say that the likes of Jeff Bezos were not pleased with the election result on Tuesday night.
-
One thing is for certain - the markets seem to be ecstatic that Trump is going to be the 45th President of the United States.
Filed under:
General Knowledge